Recently rebuilt your home, and have got too much scrap plywood lying around your house?
Maybe you are thinking about what to build with those wood scraps and how to make some good use of them.
If you can think beyond the box and have some creative ideas, you can have some easy do-it-yourself solutions for those scraps, repurposed, or reclaimed timber.
After searching around on the internet and with my own extensive experience in the woodworking field, I have come up with my list of 25 creative things you can do with scrap wood.
And believe me; these are not such difficult plans that a beginner cannot follow. So, let's get started and check them out…
Easy DIY Scrap Wood Project Ideas
Here are some simple leftover wood ideas and projects you will love to follow.
1- Wall-mounted Wine Rack
Woodworking projects with scraps should start with something you truly love. And I am a fan of exotic old wines.
This wall-mounted wine rack is one of my all-time favorite projects to make with scrap wood.
And I think it's one of the most creative things you can make with some small pieces of wood and metal hooks.
The complete tutorial by familyhandyman.com can be found here and can be easily followed if you have only some basic woodworking skills and tools available.
You just need to assemble the wood in the shape of wine racks and then install them on your wall. This will be a great way to show off your wine collection.
2- Simple Gardening Bench
At Familyhandyman, there is also this straightforward tutorial to make a beautiful yet functional gardening bench.
This is an excellent project for anyone who wants to spend more time outdoors in their garden or backyard.
The design of this outdoor bench is such that it can be easily disassembled and reassembled, so you can easily move it around the garden as needed.
The best part about this project is that it doesn't require any complicated cuts or joints and can be made with just a few basic tools and reclaimed scrap plywood in your garage.
3- Rustic Wall Clock
The simple wooden wall clock is easy to make and can be assembled in no time. It just requires a few pieces of scrap lumber, a clock movement kit, and some paint/varnish.
You can find the complete tutorial in the video above and make this beautiful wall clock for your home.
The project is for anyone who wants to add a rustic touch to their décor. Or it can also be gifted to someone who loves rustic-themed items.
4- Cutting Board
John Malecki's awesome video over here will tell you how you can transform some scrap lumber into a beautiful and functional cutting board for your kitchen or for gifts.
This is an easy DIY plan for anyone who loves to cook or entertain guests at home.
The cutting board can be made of any size and shape, and you can also use different woods to create a unique design.
This project also doesn't require any special skills or tools and can be easily made with some scrap lumber and a little elbow grease.
5- DIY Jewelry Holder
Sew Aldo DIY on her video tutorial shows you how you can make a beautiful jewelry holder with some scrap wood.
It's an excellent project for anyone who loves to accessorize their outfits with jewelry.
The jewelry holder can be made of any size and shape, and you can also use different woods to create them.
6- Birdhouse in the Backyard
This awesome tutorial at hometalk is shared by Emily Baker. It's for those who love birding.
With some old wood planks, wood glue, a few nails, and a little bit of imagination, you can easily turn that scrap pile into something that your bird friends will love.
7- Wooden Coasters and Trivets
Wood scraps turned into coasters and trivets are a great idea. And you don't need many tools or skills for this.
Just using a small hand saw, some sandpaper, clear varnish, and a bit of creativity, you can make these wonderful coaster sets for your dining.
Much like cutting boards, you can make a variety of patterns and designs. These also make wonderful presents for loved ones.
8- Planter Box
This is one easy project that is easy to make with pieces of scrap wood or old pallets. Cut and fix the pieces into a box with glue and nails, and you are done.
For a more beautiful look, you can paint and place them on your porch, balcony, or garden.
These are perfect for growing small plants and flowers in your own little urban oasis.
You can even make a large one with the same pattern to grow your veggies and fruits.
9- Colorful Rustic Signs
If you have pieces of 2x4s or some scrap plywood, you can turn them into attractive signs for your outdoors like these.
Paint them colorfully using chalk or milk paint, and then add some custom messages over them for your visitors.
10- Coat and Hat Rack
Gail Wilson at My Repurposed Life shared a stunning idea (with complete step-by-step directions) where she converted her old picket fence scrap wood into a functional and beautiful coat and hat rack.
Not only are these racks stylish, but they're also very practical. You can use scrap cuts and even leftover dowels to put together a rack that's better than anything you'll find in stores.
 If you love rustic-themed décor items, this is an excellent project for you.
11- Frame for a Mirror or Artwork
A rustic reclaimed wood mirror with a shelf and a decorated frame is another excellent idea to repurpose wood into a creative project.
The above image is from Etsy, but you can simply build a frame using scrap plywood, nails, and glue following the same pattern.
And add some handcrafted reclaimed driftwood sourced from local beaches.
Hang it on your bathroom wall, and it will become the focal point in the room.
You can use the same idea to make your vintage artwork pop before decorating them on the walls in your living room.
12- Towel Holder for Bathroom
A towel holder or a decorative wall shelf in your bathroom is a perfect way to use that extra scrap wood.
You can do this project as big or small as you'd like and paint or stain it to match your bathroom's décor.
Do not forget to add some new soft, colorful towels to your new towel holder to make it look more appealing and welcoming.
13- Garden Tool Tote
If you love gardening (woodworking, painting, etc.), you definitely have the tools you need. But where do you store all those tools? In a garage or garden lying around?
Not anymore. You can make this beautiful and easy garden tool tote out of some old scrap wood.
This tool caddy is a great way to organize all your tools and have them in one place; plus, it's much easier to carry around with you while you're working in your garden.
The step-by-step tutorial makes this project easy to follow and make. So, make sure you check it out.
14- Rustic Farmhouse Candle Holders
Just have a look at how these rustic wood candle holders are perfectly made and used out of old wood pieces cut from doors, windows, and trims.
Not only do these look amazing, but they also smell great when you use some great candles over them this festive season.
The key to making these is to use good quality wood glue and let it dry overnight before adding the candles.
15- Wooden Sofa Sleeves
Making a sofa armrest tray/table with a ledge is a smart way to use that extra wood you have.
You can make these easily in just an afternoon, and they're perfect for holding drinks, remotes, books, and anything else you might need within arm's reach.
You can use any type of plywood for this indoor project; just make sure it's free from beetles or bugs and is clean enough to use.
16- Wooden Soap Dish
A handmade soap dish (with a drain) is an important accessory for every bathroom or kitchen. It is also a great way to upcycle some wood scraps.
While it's easy to make them, it's important that you remember to make the holes and drains for water to pass through. Also, apply a wood sealer, or else the wood will rot.
17- Bathmats and Doormats
Cloth bathmats are susceptible to mold and mildew growth, yet they are present in many households. You can fashion a sturdier option from leftover wood pieces instead.
These eco-friendly wooden bathmats and floors don't grow mold as easily, can be cleaned with more ease, and won't hold stains as cloth does.
Also, you avoid that mushy feeling underfoot when you step out of the shower. It's a win-win situation.
18- Smartphone Speaker Amplifier
While smartphones come with a lot of features, their speakers are rarely ever loud enough.
You can try to amplify the sound by setting it in a bowl, but this only works temporarily and is not very effective.
You can find plenty of plans for these online, and most of them can be crafted using scrap wood pieces lying around your house.
A better way, I think, would be to get a natural wooden speaker, as shown in the tutorial here. These are much more durable and produce amplified sounds that are clear and crisp.
19- Easy DIY Bookends
Bookends are not only easy to make, but they also look pretty when added to your bookcase or shelf.
Even if you think that your books do not need them, they can be used as decorative pieces.
To make these items at home, all you need are some small pieces of scrap wood and a few other supplies that are easily available.
You can get the full instructions for this project here at Kati's housefulofhandmade.com.
20- Floating Shelves
Shara, at Woodshop Diaries, shared her step-by-step instructional guide with all the materials required and a blueprint for these easy and cheap floating shelves.
With this guide, you can make three shelves for the price of one at a store.
All you need is some scrap reclaimed wood, a drill, a dowel jig, sandpaper, and a finish of your choice. In no time, you can make them and put them up in your kitchen, bathroom, or any other room.
21- Doorstops
Out of all the ways to learn how to build scrap wood projects, this is undoubtedly the simplest.
You might already have a mitered or blocked piece of wood that would be cut perfectly to size for a doorstop – all you'd need is sanding and finishing touches.
You can even put a simple design on it or leave it as-is for a more rustic look.
22- Rustic Cake Stand Platter
Cake stands are essential for any baker or a homemaker who loves baking cakes at home.
They offer a beautiful and sturdy surface to display your cakes, as well as a stable platform to decorate on.
With just a few wooden discs, you can easily put the plater together yourself to treat your guests.
Hometalk has a complete instructional guide here that can be followed to make this an easy project.
23- Napkin Rings
Napkin rings are a great way to add a touch of elegance to your dining table.
They also make for great gifts during parties and other events.
With a little bit of creativity, you can make these rings using scrap wood pieces and other materials that are easily available in your house.
For full instructions on how to make these, head over to youtube videos, and you will find tons of them.
24- Magnetic Knife Rack
Instructables also has a fantastic guide on how you can make a magnetic knife rack using pieces of reclaimed wood.
This project is not only easy, but it is also very useful as it helps you to organize your knives in a safe and convenient manner.
For building this up, you will need some strong magnets, saw teeth, screws, and, obviously, some small pieces of wood.
If you have lots of wood pieces lying around unused, make more than one and gift your loved ones this Christmas. They will love them for sure.
25- Key and Paper Holder
If you want to use all of your scraps this season to make something practical without wasting much time, this one is among the easiest and time savers.
You can see in the image above how beautifully the project turned out to be once completed.
Hang them anywhere in your bedroom, living room, study, office, or kitchen to keep all the keys and essential documents accessible.
26- Recipe Boxes
The recipe box is a simple and elegant way to keep all your recipes organized in one place. It's also bare easy to make one in your free time with some scrap pieces of wood.
Make several pieces for your kitchen to keep multiple recipes and recipe cards so that next time you want to make your grandma's apple pie, you know exactly where to find the recipe.
27- Cat Scratching Post
Wanna spoil your kitty a little?
Make this cat-scratching post for your feline friend and see how much they love you for it.
You can make it as simple or elaborate as you want, depending on the time and effort you're willing to put in. At the very least, you'll need a piece of plywood or MDF, some carpet, and a few screws.
The complete instructional plan can be found at dailypaws.com, where you can also find many other interesting pet projects for free.
28- Hanging Mason Jar Planter
Thinking of what you can make with all those extra mason jars at your home you freed up from your pantry?
Use them to create this beautiful hanging mason jar planter. This can be an excellent option for a small indoor herb garden.
To make one, you will need some wood boards, mason jars, L-shape brackets, wire, and screws.
29- Wooden Memo Board
A memo board in the kitchen is not only a great way to organize your daily grocery list and menu but also a fantastic way to add some rustic charm to your kitchen – especially when you have finished that old piece of wood and have converted them into something like the one in the image above.
To make this memo board, you will need some spare wood, hooks, screws, and paint – and within a couple of hours, it's all done.
30- Wooden Egg Holder
Here's a beautiful and rustic way to turn your scrap wood pieces and boards into something that you will need to use daily.
At Acre Homestead, they made the coolest 72 egg holder within no time.
You can check out the full instructional guide in the video above to get started on this project.
Be Cautious – Check Before You Use Scrap Wood
Although the idea of using those free scrap wood pieces and reclaimed timber is overwhelming and very exciting, you should always check for certain things before you get started.
Nails, screws, and other metal fasteners are one of the most crucial things to get rid of before using scrap wood in your projects unless you want them to show off as a part of your project idea.
Another thing to remember is the treatment the wood has undergone. If you're unsure of what kind of chemicals or pesticides have been used on the wood, it's better to avoid using them in your kitchen near the food items.
The last thing you want is to use the wood in your project and then find out later that it's treated with something toxic that can be harmful to you and your family.
Also, before you use the scrap wood, make sure to clean and sand it down properly. This will help in getting rid of any rough edges or splinters that can be dangerous.
Once you're done with all of these steps, you can go ahead and start working on some amazing projects with your solid wood, plywood pieces, and boards. Just use your imagination and be creative – the possibilities are endless.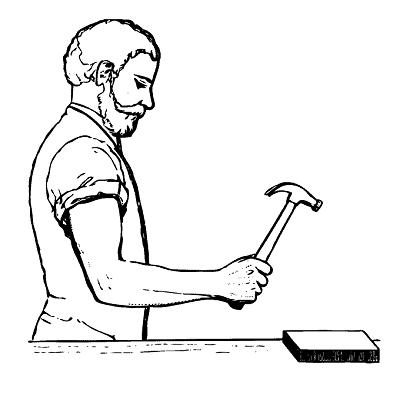 Hi, I am Mark Garner a professional carpenter, woodworker, and DIY painter. I live in the small city of Peoria, Arizona as a semi-retired woodworker. I have started this blog with a simple motive to help you with my wood experience in this sector. If you like to know more about what I love doing and how it all got started, you can check more about me here.