Roof trusses, or trussed rafters, as they are sometimes called, are structures that support the roof of homes and buildings. 
Today, roof trusses are prefabricated and brought to the construction site when the structure is ready to have the roof put on.
The most common shape associated with the roof truss is the triangle. The triangular design allows the roof truss provides considerable strength and stability. 
Plus, they are easily duplicated, which is why they are mostly prefabricated. 
And thanks to the use of strong wood that is sometimes augmented by steel, they can last for a long time when properly protected from the elements. 
Trusses are quite popular because they are affordable, quick to install, and have enough flexibility to be adaptable to different sizes and shapes in that homes, commercial buildings, and facilities are designed. 
Types of Roof Trusses
Although roof trusses can be customized to the home or building, there are two basic types, flat and pitched. 
But that only touches the surface in terms of the exact types that roof trusses are created. What follows are the nearly twenty types of roof trusses available. 
1- Attic
This is a type of truss that maximizes the space underneath. This type of truss is often used in sheds and buildings designed for storage. 
You often see this type of truss as it remains exposed to create the most space possible. 
You may hear this type of truss called a room-in-attic as it often spreads down the sides to create walls for the space.
There are many homes designed with this type of truss to create a room underneath. 
2- Barrel Vault
This type of truss gets its name from the barrel-like shape it creates. This truss is crafted from several pieces of wood that are placed in a frame. 
A barrel vault is a decorative type of truss and is often used in rooms to create more space and keep the room quite cool.
It is why you see them used in cellars, hallways that are long, and the like. 
3- Clerestory
Consisting of a high wall that is between two sides that are sloping, the clerestory truss also features window bands that are narrow in nature. 
Quite often, these trusses are left exposed to showcase their beauty. You will often see them used in modern structures that emphasize energy efficiency. 
4- Double Cantilever 
Consisting of two beams that run horizontally and are fixed on one end, you can see this type of truss is used to extend the height of buildings. 
They are also quite aesthetically pleasing and can be seen in structures like expositions and grandstands for their appearance and inherent strength. 
5- Fink
This unique type of truss is most noted for its series of V-shaped support structures. The V-pattern can be used several times across the span. 
This pattern tends to be smaller at the top and then widens as it moves downwards. The unique pattern makes it quite efficient at supporting loads across the frame. 
There are two basic subsets of the Fink truss. The fan truss is the same design, but the V-shapes are wider, while the double Fink truss is the V pattern which is doubled to form the shape of a W. 
6- Flat 
As the name implies, this is a type of truss designed for a flat roof. They offer plenty of support, especially without having to support a sloped or angled roof.
You mostly see flat trusses used in commercial buildings. 
7- Gambrel
This type of truss gained popularity when used in barns. Today, it is often used in homes that have a barn design which are often called farmhouse homes. 
Consisting of two slopes that become steeper at the center, this type of truss allows for the middle area to be used as storage. 
Because of their tall construction, they can be used to support wider spans. They are perfect for buildings that have plenty of vertical space. 
8- Hip
A roof with slopes on all sides that meet at one point uses Hip trusses.
The Hip truss is more stable compared to the standard gable roof and works quite well in conditions of snow and high winds. 
9- Howe
Created from wood and steel, the Howe truss is a simple yet quite elegant design.
The wooden part provides lateral support while the steel holds up the vertical. This combination makes the Howe truss quite popular. 
Because they can be used for long spans, you may have seen Howe trusses on the sides of bridges as they provide excellent support. 
10- Howe Scissors
A variation of the Howe truss that gets its name from the scissor-like appearance consists of the bottom chords connected at the apex to create a pitched roof. 
11- King Post
You have probably seen the king post truss as they are visible in many of the structures in which they are used.
The king post is normally made from wood, but it also can be combined with steel for extra strength. 
For the most part, the king post is used for short spans. You'll often see them used for porches, garages, and small houses. 
However, they can be used for larger structures and left visible to add a distinctive style to the interior. 
12- Mono
This is just half of a full truss. Mono trusses are often used in garages and to create roof extensions to allow sunlight to enter and create a more sizable visual space.
13- North Light 
These are wide web trusses that create triangles inside a larger truss. Homes with open floor plans will often have north-light trusses. 
Such trusses are simple, affordable, and best used in buildings with large open spaces. 
14- Pratt
One of the older types of roof trusses that are still in use today, the Pratt truss, dates back over 200 years.
The compression part of the Pratt truss is vertical, while the diagonal parts carry the tension. 
What makes this type of truss different is that they are most often made of steel, but their efficient design means they are lightweight and affordably priced. 
You probably have seen Pratt trusses used on the sides of bridges which provide additional support. 
15- Queen Post
One of the simpler designs, the queen post, is quite reliable and can be used in many different structures. 
The queen post consists of two triangles that are on either side of two uprights that form a rectangular pattern. 
This type of structure can be used for wider spans, and its simplicity makes it a great choice for many larger buildings. 
16- Modified Queen Scissors
Similar to the Howe scissors in that they are used to create a pitched roof, the queen scissors have a web-like appearance like the standard queen truss. 
17- Raise Heel
As the name suggests, this type of truss is more raised in nature compared to most other types.
They are used to create more ventilation which is why they are often found in energy-efficient homes and buildings. 
18- Tray
Sometimes called a coffers truss, this is a pitched truss that may have a sloping or non-sloping vertical interior. 
This type of truss is more used for its decorative value because it does create a beautiful appearance for room interiors. 
You can often find this truss used for dining rooms, kitchens, and living rooms of larger homes. 
19- Warren
This is another popular design that consists of triangles of equilateral shapes. Because of the triangular shapes, the load is spread evenly throughout the structure. 
The Warren truss is often used for bridges as it carries the weight of vehicles or trains evenly across the span. 
The downside of the Warren truss is that it is not as good for holding up loads that are fixed to a single point over time.
This means that if enough pressure is put into one smaller area, the truss may give. 
What Type of Truss Works Best for You?
Roof trusses come in different types and use, which makes them highly desirable for most types of buildings and homes. 
With at least 19 types of trusses to choose from, you have plenty of options when it comes to the right one for your needs. 
Before looking at any of the trusses for your new construction, it pays to first look at what you require from the home or building that you are going to construct. 
Residential or Commercial Structure 
Flat or Pitched Roof 
Large or Small
Wide or Narrow 
Ventilation
Space Under the Roof 
Budget
Once you have narrowed down your needs, you can start looking for trusses that work best for your structure. 
Another consideration is whether the truss will be hidden or exposed. Certain trusses are best when seen, while others may take away from the interior décor. 
One advantage that most roof trusses offer is that many can be modified in terms of size and span to fit most structures. This means you can send the dimensions to the manufacturer, who will send them to your construction site.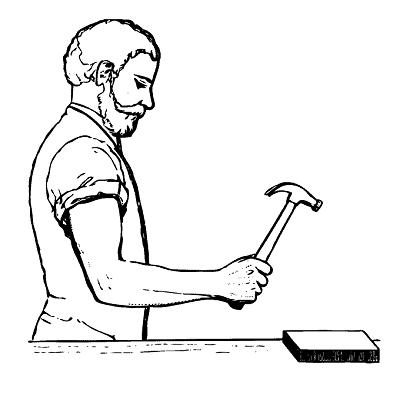 Hi, I am Mark Garner a professional carpenter, woodworker, and DIY painter. I live in the small city of Peoria, Arizona as a semi-retired woodworker. I have started this blog with a simple motive to help you with my wood experience in this sector. If you like to know more about what I love doing and how it all got started, you can check more about me here.