Pallets can be used to create a variety of different furniture pieces. These are also a great way to add extra storage to your home if you can transform them into coffee tables with built-in storage.
You can find pallets for free or very cheaply at your local hardware store, and they can be easily transformed with a little elbow grease and some paint or varnish.
For a coffee table project, you can also use the old pallets you already have lying about the house.
If you want to create a rustic look, leave the pallets in their natural state. Or, you can sand them down and paint or stain them to match your existing furniture.
DIY Pallet Coffee Table Plans
To help you get started on your next project, I have found the most versatile and original pallet projects available.
Below is a list of plans with step-by-step instructions. No matter your experience level or motivation for starting this project, one of these options is sure to be perfect for you.
1- Farmhouse Pallet Table
The very first option is a beautiful and functional farmhouse pallet coffee table that looks rustic with white paint and natural wood finish. 
This table is easy to make and will cost less than $50 in materials. You can find the tutorial below on Youtube that can help you build the table in just one afternoon.
2- Rustic Pallet Coffee Table
For a more rustic look, try this pallet table with a natural distressed finish. This table is made from two pallets and some scrap wood, so it won't cost you very much to make.
You can follow the same tutorial above that walks you through the process of building and finishing the table.
3- Coffee Table on Swivel Wheels
Making a DIY pallet furniture and adding some swivel wheels is a great way to make it more functional. 
This particular table is made from old pallets and can be easily moved around your living room or patio.
The tutorial here can easily be followed and will help you make this table in no time. Do not forget to cover the tabletop with glass and add some natural varnish to give your table a shiny look.
4- Pallet Coffee Table with Wheels
Next on the list is again a very basic design pallet coffee table on wheels. 
Build this one if you want to go for a minimalistic coastal piece placed in your beach house. Add some plexiglass to your design to add a modern twist to this more traditional design.
Here you can find a simple plan that even a beginner can follow very easily. If you want, you may also double the pallet up for additional height and space.
5- Shabby Pallets into a Chic Chevron Table
This designer piece of well-crafted table is made out of two pallets, pieces of laminates, and some wooden boards. 
The outcome gives a very illusionary look of a two-tiered chevron-style coffee table with a multicolored designer top.
Although this project involves some skill and purchasing extra materials, the final product will add a touch of uniqueness to any rustic farmhouse style.
6- Designer Coffee Table with Unique Edges
If you want a more rustic yet elegant look in your apartment, this pallet DIY project is perfect for you. Instructables.com has offered a simple project plan that anyone can accomplish with minimal effort.
This project is great because it gives the illusion of being complex and time-consuming when really it only takes a couple of hours to complete. 
Your guests will never guess that this work of art came from a leftover pallet.
7- Retro Cassette Tape Coffee Table
This is again a unique coffee table design I found on Instructables.com that can be completed with some leftover pallets and a few hours. For under $50, you can easily complete this project. 
It may take some time to make, but the outcome will be amazing and very different from any other design I have on this list.
It's an amazing design for college students, music lovers, and anyone who wants to add a touch of personality and fun to their home décor.
8- Wine Crate Coffee Table
This table is for all wine lovers out there. It's a very simple design that can be made from some crates and pallets that you may already have lying around your basement garage.
You can use this table to store your wine bottles and glasses. The tutorial here is easy to follow and won't take you more than a few hours to complete this project.
9- Distressed Window Coffee Table
Next on my list of pallet coffee table ideas is very exciting and different.
This Crafty Morning DIY coffee table project gives you something unique and elegant with a vintage feel.
For this plan, you'll need some glass or an antique window, but the overall effect is delicate yet traditional, and it's well worth the time to perfect your abilities.
10- Rustic Wooden American Flag Table
When the Fourth of July is around the corner, what better way to show your patriotism than by making a digital American flag coffee table?
This DIY project is simple enough for anyone to do, and you can make it as vibrant or faded as you want by using finishes like glossy, satin, or matte lacquer. 
11- Creative Coffee Table Idea for Car Lovers
I found this design on Pinterest when I was searching for some creative car part furniture ideas for my next project.
This particular table is designed by using some old pallets and old license plates. You can make it as big or small as you want, depending on the space in your living room.
12- Pallet Car Desk with Front Grill
This is, again, a great project for all car lovers. The particular design you will see above is by bel & bel, using some solid wood and the front grill of the classic car. 
But you can use this for inspiration and can convert your old antique car parts into something new and creative like this.
13- Vintage Suitcase Table Idea
Well, this one is a fun decoupage suitcase idea that's a coffee table designed with unused pallets.
If you love traveling or have a passion for collecting vintage items, this is the perfect design for you. 
You can fill the suitcase with all your memories from your past trips while using the top of the table to serve your coffee cups and other beverages.
14- Rustic Pallet Potting Bench Table
This one is a large pallet table with built-in storage. You can use it in your garden outdoors to keep all the gardening tools and supplies organized.
It can also be used as a potting bench where you can do all your planting and repotting.
Alternatively, you can put this table indoors to use it as a coffee station or a bar. It's most suitable for serving your guests during the festive season.
15- Convertible Coffee Table to Bench
If you prefer a two-for-one design, this coffee table DIY project that converts into a bench is ideal. 
You may customize the appearance to your liking whether you want to use it outside, inside or both. Be cautious while designing, as you will need to be more patient and skilled with this job. 
But when completed, you will essentially be getting two pieces of furniture for the price of one, and that's all from a piece of an old pallet.
16- Round Coffee Table with Books Storage
If you don't have a lot of room, then a round coffee table is perfect for you.
This easy DIY project might look difficult, but with an easy-to-follow plan layout, you can easily convert the old pallets into something unique and designed.
You can keep the wood natural (like in the photo) or stain and paint it to fit your decor better.
No matter what option you choose, this will create extra storage space plus give you a classic table for your living room area. It's also a perfect gift for someone who loves reading books and has a large collection in their library.
17- Pallet Coffee Table With Lift-Top
This is one of the best designs I have come across while searching for some great pallet table ideas. The particular design has a lift-top which makes it easy to access the storage area inside.
You can use this space for storing books, remote controls, or anything else that you want to keep handy but out of sight.
These lift-top coffee tables are beneficial because the mechanism prevents you from having to hunch over your laptop or food. 
And is the highlight of this design, making it perfect for modern living rooms, study rooms, or even a home office.
The tutorial here is also very easy to follow and is great for beginners. 
Why Make a DIY Coffee Table with Pallets?
Pallet coffee tables and end tables are readily available online at stores like Etsy, Amazon Handmade, and others. You can also find some great designs near you at yard sales, flea markets, and even thrift stores.
So, why make your own pallet table?
Well, the best part about making your own is that you get to customize it according to your needs and preferences. You can make it as big or small as you want, and you can also add extra features such as shelves, drawers, or even a lift-top.
Another great thing is you can use any type of wood you want. For example, if you want a rustic look, you can go for reclaimed wood. Or, if you want a more sophisticated modern look, you can use new wood and finish it with a wood stain or a paint of your choice.
Making your own coffee table is also a great way to save money. Even if you have to buy wood, it will still be cheaper than buying a ready-made table.
And if you can have some old free pallets lying around, it will practically cost you nothing to make one.
When building your own table, make sure you check how much it will cost and if it's really a good idea to spend money on it or not.
Also, if you are a complete novice, ensure that you check the sizings, materials list, and step-by-step instructions before starting to avoid any mistakes.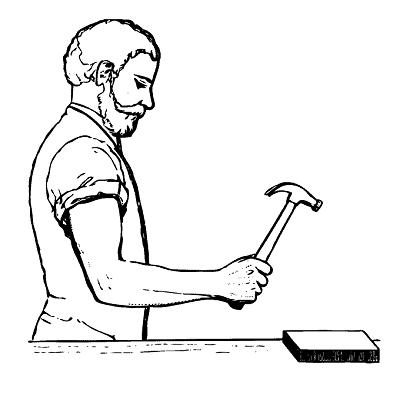 Hi, I am Mark Garner a professional carpenter, woodworker, and DIY painter. I live in the small city of Peoria, Arizona as a semi-retired woodworker. I have started this blog with a simple motive to help you with my wood experience in this sector. If you like to know more about what I love doing and how it all got started, you can check more about me here.