If you are considering metallic gold paint as an option to refinish your antique picture frames, tables, chairs, trunks, or any other old wood furniture, I wish you the best of luck because you have made the right decision. With the right products, preparation, and little effort, this can be done to achieve a new shiny look on old worn-out pieces.
Wood is one of the simplest surfaces to prepare and paint – thanks to its fantastic paint-absorbing properties.
Being fibrous, paint sticks much better to wood surfaces compared to others like plastic, glass, and metal.
How to Spray Paint Wood Gold?
Since wood is also commonly used for art and crafts, painting wood surfaces gold is what fascinates people most.
To make sure that the gold metallic paint adheres well to the wood furniture, all you have to do is…
Sand down the surface gently to show the grains
Apply a coat of wood primer, and let it dry
Once the primer is dry, spray the gold paint to the piece of furniture
Finally, apply one or two additional coats until you are happy with the color and finish
No matter what kind of wood it is, make sure you prepare the surface well by sanding and applying a coat of primer.
Also, you should only apply any additional coats of gold paint on the wood, once the first coat of paint is set and dried completely.
Different Types of Gold Paint You Can Use for Wood?
Using metallic paints on wood can be a tricky issue unless you choose the right brand and product.
The texture is arguably the most important consideration when selecting the proper paint for wood. This means you should sand the surface so that it is properly prepared.
Now that the surface is ready, the next step is to purchase the right paint. What follows are a few examples of gold paint that is perfect for wood surfaces.
1- Acrylic Paints and Gold Leaf
Acrylic paint is perfect for adding details and accents to the surface. When combined with a small paintbrush, you can add lines or highlight certain areas with ease.
If you are going for a glossy look, then consider using gold leaf as it provides a beautiful, shiny finish.
2- Chalk-Based Paints
This will depend on the requirements of your project, but chalk-based paints offer some versatility.
One big advantage of chalk-based paints is that they go on thick while providing a distressed appearance, so there is little need for a lot of preparation or primer to cover the object.
For a gold paint surface, it is best to initially paint the item with another color and then cover it with gold paint. Once dry, sand the gold paint lightly until you can just see the shades of the undercoat. That will provide an amazing look to furniture and other wood objects.
3- Metallic Spray Paints
If you want to refinish some furniture using metallic gold paint, then spray paint will help you finish the job fast and easily.
The downside of spray paints is that they may not last as long depending on the use of the furniture. So, a chair or coffee table is probably not a candidate for spray paint.
However, if the object is a lamp or wall hanging, then using spray paint will be a great choice. The less wear an item undergoes, the better candidate it is for spray painting.
---
What are the Best Metallic Gold Paints for Wood Furniture?
It's always difficult to shop for spray paint online for the simple reason that you do not know what the paint will really look like until it has been purchased.
To make things easier, here are a few brands of gold metallic paint designed for wood furniture that offers real quality at an affordable price. Each one has demonstrated outstanding qualities that make it perfect for painting wood. 
1- Design Master Rose Gold Spray-Paint
Here, the color is the key as this Design Master Rose Gold Spray-Paint hits it just right.
The beautiful color of the paint is its biggest selling point. Add to that the quick-drying formula and you have a nearly perfect product. Plus, the paint itself is chip-resistant, so it should last for a long time under normal conditions.
The fact that it is fast drying is also a major selling point. You can paint quickly and move on to your next project.
If there is a downside, it is that this particular brand tends to clog. There are ways to keep it from clogging or address the issue when it arises. However, it is rather annoying, so you must be prepared for this paint to clog.
2- Krylon Metallic Gold Spray Paint
This is an excellent gold spray paint thanks to its almost unmatched color and beauty. Krylon has a strong reputation for making solid, affordable, and high-quality spray paints and this is no exception.
You can apply it to wood and most other surfaces as well. Because of its overall quality, it normally only takes a single coat for complete coverage.
However, one of the most prominent attributes is that the paint will dry in roughly 10 minutes given the environmental conditions.
If you are painting a metal surface, this product offers rust protection. That makes it perfect for outdoor use, such as on bicycles and other metal surfaces that are subject to the elements.
If there is one element that some people do not like about the Krylon Metallic Gold Spray Paint, it is that the color is a regal matte finish instead of a shiny pop. If you like the matte finish, then this is for you.
3- Rust-Oleum Metallic Gold Spray Paint
You can use this paint either indoors or outdoors. However, the element that makes it most promising is the low price itself.
Being affordable and of good quality makes this one of the desired spray paints on the market.
Because this spray paint uses metallic flakes, the result is a shinier, more brilliant color as compared to paints that have a matte finish. This Rust-Oleum paint also prevents rust and is chip-resistant as well.
One downside is that this particular paint may be a little difficult to apply given that it does drip more than similar paint products. However, at such a low price that may be worth it if you take extra care in applying the paint.
4- Rust-Oleum 253537 Metallic-Accents Paint, Quart, Gold
If there is any gold paint that truly stands out, it is the Rust-Oleum 253537 Metallic Accents Paint in Gold.
So good is this paint that one coat is often more than enough for most needs. The combination of a stunning finish and low, affordable price make this product second to none on the market.
In addition, the paint will dry in about a half hour under normal conditions and it is water-based paint, so a little soap and water will clean up the mess in case you spill it.
The gold shade of Rust-Oleum Metallic Accents Paints offers considerable versatility when working with most surfaces, including wood. Plus, the eye-pleasing finish makes almost any project stand out.
And, as long as you have properly prepared the surface, the paint can be used on exteriors as well as interiors.
The paint is perfect for door trims, picture frames, furniture, and just about anything that you want to give an elegant appearance.
Being water-based, not only is clean-up a snap, but it also has very little in the way of odor. You should still paint in a well-ventilated area.
5- Shabby Chic Chalk Furniture Paint – Antique Gold
Although chalk-based paints offer a matte instead of a shiny finish, this one from Shabby Chic is quite elegant and sumptuous.
Because the paint goes on thick, you only need one coat for most projects.
The versatility of this chalk paint is quite something. You can use it to brighten up DIY furniture, paint the kid's room, or create a beautiful bed frame.
The chalk coloring gives surfaces an attractive distressed appearance that never goes out of style.
---
What to Look for When Buying the Best Gold Spray Paints for Wood?
For those who are searching for gold spray paint, one of the most important aspects of your search is finding paint that has good adhesive qualities.
a) Good Value
Although price and quantity are important considerations, you should place good value at the top of the list.
It is true that you will have to pay more for good value, but the initial cost will be worth it, given the quality and longevity that is received.
You can choose gold spray paint that works on a variety of surfaces, but there is nothing wrong with finding specialized products as well.
For example, gold spray paint specifically designed for wood will adhere better and last longer compared to paint that can be applied to several types of surfaces.
If all you need the paint for is to cover wood furniture and other wood surfaces, then think about choosing a specialized gold spray paint.
b) Ease of Use
You expect spray paints to be easy to use. After all, that's the point of spraying paint as opposed to brushing or rolling.
However, the quality of the can and sprayer play a large role in how easy the paint is to apply.
Some brands are simply better than others when it comes to the quality of the spray cans. It pays to spend a little more to get a proper nozzle and extra nozzles to replace any that clog.
c) Proper Color
While many spray paints accurately portray the color promised, metallic colors such as gold can be more difficult.
This is because metallic paints offer a luster along with a color that must be accurate. Even if you get the color right, the luster may be off.
Considering that metallic colors such as gold, silver, and chrome are shiny, you expect that to be reflected in the spray paint.
This means that a matte finish to the spray paint will not have the metallic color pop as expected.
d) Wide Coverage
How well the spray paint works is another important consideration.
Does it run, bubble, or perhaps not stick well to the type of surfaces that you want to cover? If so, then you are going to have a hard time getting the results you want.
Spray paints should be simple and easy to use. But you need to do the research first in finding the right type for the job.
This means checking out brands that have a solid reputation. Plus, spray paint that is compatible with the surface you want to cover.
e) Drying Time
How long it takes for the paint to dry is an important consideration.
If you are working on a time-sensitive project, then you'll want to know the drying time of the paint. The quicker it dries, the less time you will spend on the project.
However, there are important factors that go into how fast a spray paint will dry.
The type of surface, the temperature and humidity in the room, and the thickness of the coats being applied will alter the stated drying time listed on the can.
For example, the paint dries faster on wood compared to metal because of the porous fibers that absorb the paint into the material.
f) Texture
One of the more overlooked features is the texture that the paint provides.
Whether you want the paint to stand out, be muted, or be somewhere in between, the texture is crucial to reaching that goal.
For metallic paints, this means accounting for the matte, sheen, or muted color elements that are available. Otherwise, it's going to be difficult to undo the work that has been done.
Preparation is vital to the success of using gold spray paint for your project.
Know what the paint can do, and emphasize the quality of the product along with its ease of use. But most importantly, know whether it can deliver what you want.
g) Finish
With all the attributes of gold spray paint, the finish is certainly one of the most important. This is because the finish is what showcases the color, texture, and beauty of the paint.
Without a proper finish, the paint will simply not give off the quality required for your project.
In addition to obtaining the best high-quality paint, you will need to ensure that the finish is best suited to your intent.
This means that you need to match the proper paint with the material that is being used. This requires having the foresight to understand what you want to accomplish.
This means what your project will look like at the finish. You can use images and other references to ensure that your efforts are helping you reach your goal.
FAQs
Is gold spray paint water-resistant?
If you're looking for paint that will withstand the elements, gold spray paint is a great option.
This type of paint is water-resistant, making it ideal for use on outdoor surfaces.
It also has a high level of durability, so it can stand up to wear and tear. Gold spray paint is a versatile option for many different projects, so it's worth considering for your next painting project.
Can you spray paint gold metallic over black?
Gold metallic paint is so versatile and long-lasting, so it can help protect your black surfaces from wear and tear.
But to paint over black or other dark surfaces you will most likely need to apply 2-3 coats for getting the right finish.
Can you sprinkle gold glitter on wet paint to add a metallic effect?
Yes, you can sprinkle gold glitter on wet paint to add a metallic effect. This is a great way to add some pizzazz to your project.
Just be sure to use non-toxic glitter so that it's safe for everyone.
How do you seal gold metallic paint without losing sparkle?
You can use a clear sealer to protect your gold metallic paint without losing the sparkle. Just be sure to follow the manufacturer's instructions for application and drying time.
Sealers are typically applied with a brush or sprayer, so you'll need to choose the right tool for the job.
Clear sealers can also be applied over other paint colors to create a unique effect. Experiment with different colors and combinations to find the perfect look for your project.
Final Thoughts
Finding the right gold paint online does not have to be a chore when you choose from one of the recommended brands and products.
Simply purchase, spray a little on some scrap wood to see if it is what you want, and then use it on your wood furniture and other surfaces that you want to paint gold.
With a little work, you can make old furniture look stunning when you have the right gold paint.
Share the post "Can You Spray Paint Antique Wood Furniture Metallic Gold?"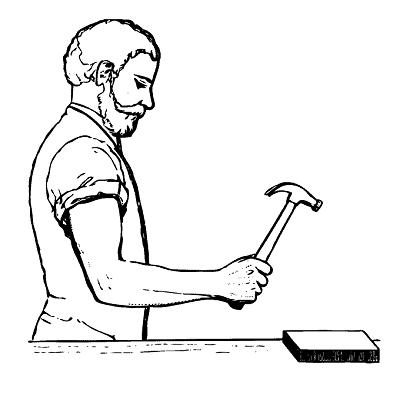 Hi, I am Mark Garner a professional carpenter, woodworker, and DIY painter. I live in the small city of Peoria, Arizona as a semi-retired woodworker. I have started this blog with a simple motive to help you with my wood experience in this sector. If you like to know more about what I love doing and how it all got started, you can check more about me here.