If you're wondering how to paint wood with acrylics, it may surprise you to learn that it's simpler than it seems.
While you can paint right on wood, there are a few steps that you should take first to ensure a finish that is both long-lasting and neater in appearance.
Below, we'll offer a step-by-step guide on painting wood using acrylics.
Step 1. Prepare the Wood
The key to success when painting wood is to prep the wood properly.
This is no different than making sure your canvas is ready to go before painting on it.
Having a solid foundation to work on makes all the difference in the world.
Begin by sanding down the wood. This is an essential step toward getting a silky, sleek surface.
You may see that the wood has already been sanded, and if this is true, you can skip this step.
If you do need to sand the wood, then it is recommended that you do so with 140 to 180 grit sandpaper or with a sanding sponge.
After, dust off any excess dust with a dry cloth or with compressed air to make sure it's as smooth as possible.
Step 2. Apply a Primer
When you apply acrylic paint to wood without using any sort of primer, the project won't usually turn out the way you hoped.
Putting on a thin layer of wood primer will keep the wood sealed and let the acrylic paint set more easily.
After a primer layer has been applied, you'll notice that lighter colors will show up more vibrantly.
Let the primer dry completely before moving on to the next step.
If you want an even smoother surface, then you can repeat the sanding and priming process until you find the texture you're satisfied with.
Generally, the smoother the texture, the better.
Step 3. Putting in a Background
When using acrylic paint on wood, it is best to start with base paint.
You can use any kind of acrylic you prefer when painting on wood. Choose the color you want as your background and then put a little bit onto a palette.
Keep in mind that acrylic paint dries quickly, so only pour out enough to use for your background color right now.
Then using a wide, flat paintbrush, apply the paint to the wood.
Give the initial coat time to dry before applying the second coat, and then you can paint the back if you like.
You can expect most acrylic paint to dry in about 20 minutes, but this could vary depending on the brand you use.
Step 4. Add Details
After the background layer has dried, you can add the details to your craft project using acrylic.
Use a soft brush to accomplish this, and work with a light hand as you apply the finish.
Make sure that you are dunking the brush in water occasionally to make sure the bristles stay soft and clean. This is important to do even if you are using just one color.
After completing the work, allow it to completely dry.
Step 5. Apply the Sealant
Putting a sealing coat on the project is important if you want to protect it from chipping or peeling.
Sealants come in a number of finishes, so you have a selection to choose from.
This includes glossy, matte, satin, and any other kind of finish you like. Then, choose whether you use a brush or spray on the sealer.
The applications will be different, but the end result will be the same.
All you have to do is apply a thin coat of the sealant and then give it time to dry. Once this is finished, you've completed your acrylic art on wood.
---
Types of Wood Surfaces You Can Paint
There are many reasons that you might want to paint wood with acrylic other than for a personal art project.
Craft projects using wood are fun activities for kids, while some like to repaint wood furniture to give it a new lease on life.
The material is also relatively cheap, so you aren't spending a lot of money on the medium itself.
In general, repainting furniture and painting wood are common practices, but it is also important to use a sealant afterward.
When you are painting wood, a general rule is to try and avoid hardwood.
These can sometimes be more difficult for acrylic paint to stick to, which could make your product turn out different from what you expected.
Above all, it's best to avoid oak plywood.
No matter the amount of primer or sealer you end up using, the paint will fill in the pores, and the end result is not one that many like.
To ensure a smooth finish, you should choose wood that is soft like poplar or maple.
They not only hold paint well, but they are less expensive and more resistant to shrinkage and other kinds of warping.
You can also apply acrylic paint to any wood that has been stained, which makes it good for an upcycled piece of wood or when repainting older wood furniture.
A lot of stained wood has a waterproof element as well as a smooth, glossy finish.
It's a good idea to sand the wood down to get this off before painting to ensure the new paint sticks well.
---
What Are the Best Acrylic Paints for Wood?
The best kind of acrylic paint for wood is student-grade or artist-grade. That said, many brands work just fine on wood.
Artist-quality paints are available in a full spectrum of colors, but you'll usually find that student-grade paints are less expensive.
The professional paints tend to have more vibrant colors and will blend or layer with greater ease.
Take a look at the paint bottle to see what surfaces are recommended for each one to ensure the best possible results.
1- Arteza Outdoor Acrylic Paint Set
The Arteza Outdoor Acrylic Paint Set comes in a set complete with 20 vivid colors.
You can use this paint on fabric, rock, leather, paper, walls, canvas, and for other crafts, making it quite versatile.
They are richly pigmented and won't fade over time. You also won't need a sealant, as they are self-sealing.
2- Majic Paints RePurpose
Majic Paints RePurpose is good for adding acrylic paint to furniture, doors, cabinets, and more.
They are water-based paints that produce a long-lasting, durable finishing product. This type of paint is particularly good for pre-stained wood or wood furniture.
3- Rust-Oleum Milk Paint Finish
A well-known brand, Rust-Oleum Milk Paint Finish is preferred by many for painting decor and interior wood furniture.
There are six colors to work with, each in 32-fluid-ounce containers. It, too, is water-based and has a low amount of toxic chemicals.
It can be cleaned easily using soap and water, which is good for those who tend to be a bit messy when painting.
Conclusion
Acrylic paint is one of the best options for painting on wood, whether you're repainting an entire wooden dresser or just a small craft product.
It is an affordable medium for art compared to a lot of other materials, but it does need to be prepped, just like the others.
Above, we have explored acrylic paints in terms of wood painting.
We have also given you a guide to preparing wood for painting with acrylics to ensure the best results as well as offered a list of some of the best acrylic paints for wood available today.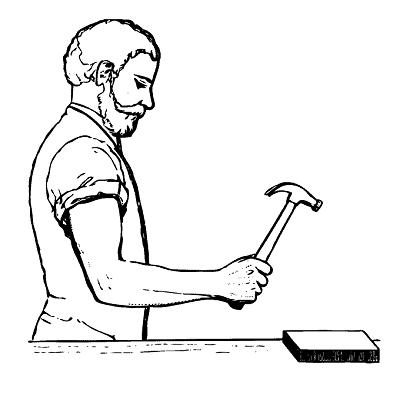 Hi, I am Mark Garner a professional carpenter, woodworker, and DIY painter. I live in the small city of Peoria, Arizona as a semi-retired woodworker. I have started this blog with a simple motive to help you with my wood experience in this sector. If you like to know more about what I love doing and how it all got started, you can check more about me here.