Picking the right ideas and designs for a man cave is the first step when you want to create a space to hang out.
After all, it's a room where you come to relax, watch the game, and enjoy a few drinks with friends.
No worries, even if you're working with a small budget – there are plenty of ways to create a stylish and functional space without breaking the bank.
So, in this post, I will share with you some excellent man cave bar ideas for a small basement that are both smart and budget friendly.
Man Cave Bar Decor Ideas for Small Basement
Want to turn your small basement or garage into something extraordinary to have all fun? Here are some smart, inexpensive decor ideas to get you started:
1- Man Cave Rules
Don't get me wrong here!
But men always get excited and out of control after they are drunk – and I am no exception.
So, I think every man cave should have rules in place – at least some of them might follow them even after they are drunk 😉
You can make your own rules and get them written on a board like the one shown here.
It's printed on canvas and will not only look great but will also help set the starter tone for your space by letting everyone know that you are the man of rules.
You can use a wooden board as a base and some black paint to write the text if you want.
2- Motorbikes and Helmets
For men passionate about motorbikes, this is an excellent way to show off your collection while adding some character to the small space.
You can hang the helmets on the wall or display them on shelves. Also, consider adding a bike, old parts, or other memorabilia to complete the adventurous look.
3- Interesting Chalkboard
To keep your basement man cave space interesting, conversational, and interactive, install a chalkboard.
This is especially great if you have kids because they can use it to draw and play while you're relaxing in the space.
4- Pool Ball Candle Holders
If you have some old billiard balls (cue balls), these can be used to create unique and stylish candle holders.
They make great centerpieces for the man cave bar and add a touch of whimsy to the space.
5- Upcycled License Plates
This is a great way to add some personality to the space and show off your love of cars. You can create a sign, frame, or wall art using upcycled license plates.
When you have guests coming over, they will be impressed by your creative use of recycled materials.
6- Beer Bottle Cap Table
This definitely is a great basement bar setup idea to make your small space look colorful and bright.
The design you put with the beer bottle caps on the table will show your love for beer as well as your creativity (if you choose to build one yourself).
Believe me; it's not very difficult to make an attractive bottle cap table top. Below is a fantastic video tutorial I have found, and it should help.
7- Wine Cork Dartboard
This cork dartboard is excellent if you have a serious wine-drinking issue – it's a great way to recycle all those wine corks you have been hoarding.
But you will probably need thousands of corks for the project, so ask your family and friends to provide these corks for the endeavor.
8- Man Cave Bar of Wooden Pallet
Wooden pallets are something you can find for free or very cheap.
You can use the old ones if you already have them in your garage – to create a wide variety of furniture and decor items for your basement space – including a man cave bar.
This is a great DIY way to add some rustic charm to the space and save money at the same time.
9- American Flag Bottle Opener
Bottle openers are must-have items for any man cave bar.
And this American flag bottle opener is perfect for those who love their country and want to show it off.
The rustic design and colors to decorate your small space are awesome, but I think it's something you cannot make yourself in a DIY way.
So better to buy one. It's readily available at stores like Etsy and can be bought at a low price.
10- Liquor Bottle Chandelier and Lights
A great chandelier and pendant lights can turn your small man cave space into a luxurious and relaxing retreat.
And this liquor bottle chandelier has all the power to do the same.
It's a perfect designer piece for those who love their drinks.
This lighting set for your basement man cave pub is available online to buy, but you can get the inspiration and make the similar one yourself as a DIY project.
11- Bottle Cap Wall Art for Man Cave
This wall art is made from beer bottle caps and is sure to add character to any space, including man caves and basement wet bar.
If you have some woodworking experience, you can easily create a similar design or choose any as per your passion and liking (like a guitar, car, motorbike, or any other hobby-related art).
12- Wine Barrel Display Cabinet
Have you ever wondered how a whiskey barrel bar can be converted into a stylish wine barrel display cabinet for your basement wet bar?
Just have a look at the picture and get some inspiration!
It's actually very easy to make one with an old wine or whiskey barrel (if you plan to do it yourself), and the results are fantastic.
The only thing is to find the barrel – which is not a difficult task as many liquor stores and wine shops have them for sale.
13- Sports Memorabilia Decor for Man Cave
If you're a sports fan and have a good collection, then you'll love this idea for your man cave.
Without the need to spend a large amount on new decor items, you can easily add some of your favorite sports memorabilia to the walls, and you're all set.
This is a very cost-effective way to decorate your space and show off your collection at the same time.
14- Outdoor Table with Built-In Cooler
An outdoor table with a built-in cooler is perfect for hosting parties and BBQs – no matter if you put them in your backyard or a basement.
The best part is that you can easily make this yourself with some old pallets, a cooler, and some basic tools.
It's an excellent project for those who love to entertain in their man cave.
15- Tire Shelves and Rim Decor
Men with Ford trucks or Chevy trucks will love this idea because they probably have some old tires and rims in their garages.
Tire shelves and rim decor is a very popular way to add some rustic charm and curb appeal to the space – and it's perfect for man caves.
If you don't have old tires, you can even find them at junkyards or garage sales.
16- Unique Billiard Table
A uniquely designed billiard pool table in the form of a vintage car is perfect for those who love cars and want to show it off in their man caves.
This particular model is very expensive, but you can find some cheaper options online or even make one yourself (similar to this) if you're good with woodworking.
17- Old Drum Shell Lights
Strictly on budget, why not make good use of musical instruments to modernize your man cave?
This lamp is made from an old drum shell that will definitely add a unique touch to your space; plus, it's very easy to make.
So, before you plan to dispose of your old unfunctional guitar, a piano that nobody plays, or some other musical instruments gathering dust, why not put on your creative hats and get an idea of how you can put them as part of your man cave decor for your next bachelor's party?
18- Re-purposed Vintage Console TVs
What a brilliant idea if you could re-purpose a vintage console TV and turn it into a bar cabinet for your basement wet bar or man cave.
This is an excellent way to add some old-school charm to your space, and it's very easy to do.
The hardest part is finding a vintage console TV if you do not have one – but once you have it, the rest is a piece of cake.
19- Cedar Wood Gun Cabinet for Man Cave Decor
If you already have a gun collection and a cabinet in your home, you can easily turn it into a decor item by displaying it in your basement man cave.
This is a very inexpensive way to add some character to the space, and it's also a great conversation starter.
Just make sure that the gun cabinet is securely mounted on the wall and that the firearms are unloaded and locked.
Final thoughts
There you have it – the best man cave decor ideas that are incredibly smart and budget-friendly.
After all, it's a place for showcasing our hobbies, passion, and, most importantly, hanging out with our friends while watching sports matches, playing sexy movies and games, or simply enjoying a beer.
No matter what your budget is, these ideas will help you create the ultimate man cave that reflects your personality and style.
So, what are you waiting for? Start planning and decorating your dream man cave today to enjoy your own personal space, relax and unwind.
Share the post "19 Man Cave Decor Ideas [Incredibly Smart and Budget Friendly]"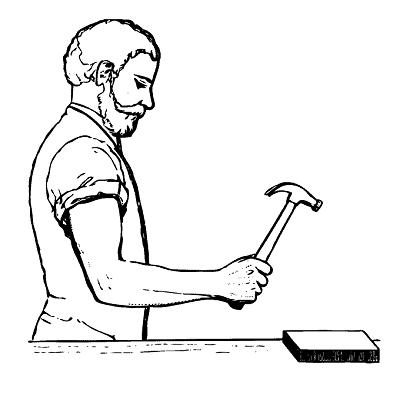 Hi, I am Mark Garner a professional carpenter, woodworker, and DIY painter. I live in the small city of Peoria, Arizona as a semi-retired woodworker. I have started this blog with a simple motive to help you with my wood experience in this sector. If you like to know more about what I love doing and how it all got started, you can check more about me here.