J-B Weld is an epoxy adhesive that is popular for its excellent bonding capabilities. You can use it on different types of surfaces, including metal, glass, ceramic, PVC, and many more.
 Many woodworkers are particularly interested in using JB Weld on wood because of its strong bonding properties.
But being skeptical is only natural. So they often ask – how strong is JB Weld on wood, really?
J-B Weld is an incredibly strong adhesive. In fact, it is so strong that it is often used as an alternative to welding.
As with other surfaces I have just mentioned, JB Weld can work pretty well on wood. No matter the type of wood, it can quickly make a strong bond with wood surfaces that's nearly unbreakable.
Not only for wood to wood, but you can even use JB Weld for bonding wood to metal, glass, ceramic, PVC, and many other materials.
That is, however, a short answer to the question.
Below in this article, I will dig deeper into the topic to explore how strong JB Weld is on wood once applied, how you should use JB Weld on wood, and how you can remove JB Weld from wood in case it's required. So let's start right here.
Is J-B Weld Really that Good for Wood?
For those who aren't aware, let's start with some basics, what is J-B Weld?
J-B Weld™ is an international company that produces epoxy products.
Their most popular product, named J-B Weld, is the Original Cold Weld two-part epoxy system that is known for creating strong, long-lasting repairs to metals and several other surfaces.
This product was created as an alternative to welding and is commonly used for repairing cracks, holes, or gaps in various surfaces like wood, metal, glass, and ceramic.
For wood, J-B Weld works as a powerful adhesive that can create a bond that is just as strong as the wood itself. But that's only when you have applied it correctly and allowed the JB Weld bond to fully cure.
Once cured, it can be sanded, tapped, dripped, drilled, and stained/painted over without damaging the wood fibers or wood grains.
JB Weld, when bonded with wood, also has a high tensile strength (of around 1,800 PSI), making it suitable for use on both indoor and outdoor wood projects like furniture, floors, windows, doors, decks, fences, and more.
Applications & Products
Some popular applications and usage areas of J-B Weld on the wood are:
Repairing cracks, holes, or gaps on rotted wood surfaces
Attaching two pieces of wood together
Bonding metal to wood
Doing DIY wooden projects like birdhouses, chairs, tables, etc.
Filling voids and holes in damaged wood surfaces like window frames and window sills
Depending on the woodworking project and requirements, you can choose between different JB weld products, which include:
J-B Weld Wood Restore Premium Epoxy Putty
J-B Weld Liquid Hardener
J-B Weld Super Weld Extreme
J-B Weld Clear Weld Syringe and Twin Tube
J-B Weld KwikWood is one of the best two-part epoxy products that acts much like wood putty. Unlike regular wood putties, it hardens very quickly and will create the strongest bond with a shear strength of around 900 PSI.
There are also specialized products that can withstand extremely high-temperature levels of 500°F (260°C) to 600°F (316°C).
This means once the bond is set and cured, J-B Weld can manage to stay strong up to a maximum of 600°F without melting for around 10 minutes.
Besides the ones mentioned above, there are many other products that can be explored over here. When selecting, just make sure that it's compatible with wood or other surfaces you are working on and will fulfill your requirements.
A Few Advantages and Disadvantages
Like everything else, J-B Weld also has its own set of advantages and disadvantages that you should understand before using it on your woodworking projects.
The Pros:
JB Weld is easy to use, and it dries quickly
It is available in different sizes
It can be used on different types of surfaces, including wood
It works to increase the dimensional stability of the wood
It can be used to fill cracks and gaps in the wood and between wood parts or joints
It creates an incredibly strong bond that is resistant to shock, vibration, and shrinkage
The bonding is also durable and resistant to water, acid, heat, and chemicals
The Cons:
JB Weld can be difficult to remove once it has cured
It is not advisable to use JB Weld on surfaces that will be exposed to extreme temperatures
JB Weld can be toxic if inhaled because it has a strong odor
How to Use J-B Weld for Wood Restoration?
When it comes to restoring your wood with JB Weld, it is important to know how to properly apply it and what product to use.
Since JB Weld Wood Restore Liquid Hardener and JB Weld Wood Restore Premium Epoxy Putty are the two main products to use on wood, we will focus on those.
Here is a step by step instructions you can follow.
Step 1- Clean the Wood
First, you have to clean and dry the surface of the wood that you will be bonding.
If there is any moisture in the wood (like in the rotted areas), ensure that you keep the wood in a dry place, preferably in the sunlight, to get the piece dried.
Once the surface is dried, use a lint-free soft cloth to remove dust and grime from the surface. Avoid using soap and/or water as it will again make the wood damp.
This is important to ensure that the JB Weld will adhere properly to the wood.
Step 2- Prepare the Wood by Removing the Rots
If you're using JB Weld to fix rotted wood, the next step is to remove the rotten wood areas – applying the JB Weld on rotted wood will not hold well.
You can use a chisel and hammer or any other sharp object (like a screwdriver) to remove the rots. Just make sure that you don't damage the good wood areas around it.
Only remove the loose wood fibers that are damaged and unstable. After you have chiseled away the rots, use a wire brush to clean off any loose wood particles and let the wood dry completely in these areas as well.
Step 3- Use JB Weld Liquid Hardener to Seal the Wood
The next thing is to prepare the wood surface by applying JB Weld Liquid Hardener.
Shake the bottle of JB Weld Liquid Hardener well before use, and then pour a small amount onto the impacted wood areas that are no more rotted (you should have already removed all the rots).
Next, use a paintbrush to apply a thick coat of liquid hardener evenly to these areas. Saturate the softened areas of the wood properly and ensure that you do not miss any areas.
JB Weld Liquid Hardener will quickly seep into the wood pores, providing a deep-penetrating seal that will help to further stabilize the wood.
While a single coat will be enough for most conditions, it's good to apply 2-3 coats of hardener liquid if you're working with severely damaged wood.
When doing that, allow the first coat to dry completely before adding another one.
Step 4- Let the Liquid Hardener Cry and Cure
After you have applied the JB Weld Liquid Hardener to all the areas, allow enough time to get it cured before moving to the next step.
J-B Weld Liquid Hardener will typically take 2 – 4 hours to harden and dry. But it will need around 7-8 hours to completely cure.
Once this much time is passed, clean the surface with a lint-free cloth and get ready to apply JB Weld Wood Epoxy Putty.
Step 5- Use JB Weld Wood Restore Premium Epoxy Putty to Fill the Gaps
Applying JB Weld Wood Restore Premium Epoxy Putty requires proper mixing and preparation of the product.
Generally, you will need to mix equal amounts of Part A and Part B Epoxy Putty in a 1:1 ratio. Mix the two with a mixing stick or wear gloves to use your finger.
Once you have achieved a uniform color, you are good to proceed.
But remember, once the J-B Weld putty is mixed together, you will have a limited amount of time to use it before it starts to harden.
Apply the mixed putty evenly and smoothly over the surface of the impacted wood fast. Fill in all the areas that need to be repaired without missing any spots.
Use your gloved finger or a putty knife to shape, mold, and press the JB Weld Epoxy Putty as desired during the application process.
Step 6- Let the Repaired Wood Surface Dry and Cure
After you have applied JB Weld Wood Restore Premium Epoxy Putty to all the areas that need repair, allow it to dry and cure properly before moving on to the next step.
The epoxy putty will take around 4 hours to set and 16 hours to cure completely. After this time, it is hardened and won't crack very easily.
Step 7- Trim off the Excess Putty (Optional)
If there is any excess JB Weld Wood Restore Epoxy Putty that has spread outside of the areas you were repairing, you can trim it off using a sharp knife once it has been set but not yet cured.
After that is done, your wood is now restored and is ready to sand, drill, screw, paint, or stain based on your requirements.
For exterior wood surfaces, I will generally recommend painting or staining after the repair is done.
How Can You Remove JB Weld from Wood Surface?
Remember that once J-B Weld is set and cured, it's not easy to break the bond that is strong enough as stone.
J-B Weld can only be removed by sanding it off using a powerful electric sander or by using an angle grinder. But that should be done cautiously, or else you can end up damaging the repaired wood.
Another method you can try to remove JB Weld from wood is by heating the JB weld above 600°F maximum, which is its threshold temperature. But that much heat will again pose a risk of burning the wood surface.
My recommendation is to leave it as it is or sand it off if you want to change or remove it.
Final Thoughts
JB Weld is an excellent product that can help you to restore and repair wood surfaces quickly. It can be used to make various repairs on wood, such as repairing cracks, holes, or rotted wood.
The product is simple to use and has a long-lasting bond simply because it's resistant to water, oil, and gasoline once it has been set and cured properly.
I hope you found this guide helpful, and you can now go ahead and try JB Weld for your wood repairs. Do let me know how it went.
Share the post "How Strong Is J-B Weld on Wood – How to Use It Correctly?"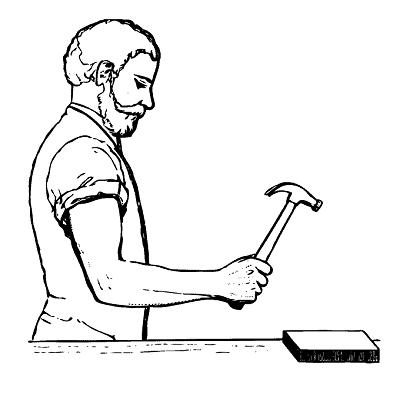 Hi, I am Mark Garner a professional carpenter, woodworker, and DIY painter. I live in the small city of Peoria, Arizona as a semi-retired woodworker. I have started this blog with a simple motive to help you with my wood experience in this sector. If you like to know more about what I love doing and how it all got started, you can check more about me here.