Over the past few years, wooden garage doors have soared in popularity. This is because the aesthetic qualities of a wooden garage door bring out the beauty in most homes.
Of course, if the garage door is poorly made or looks cheap, then this can bring down the aesthetic quality of the property itself.
However, despite their popularity, wooden garage doors are quite expensive compared to sheet metal which is a common material used to create garage doors.
But a wooden garage door should be considered an investment and not just a purchase. The key is to select the right type of wood for the garage door.
Different Types of Wood for Garage Doors
You may be surprised to learn that there are several types of wood commonly used to create garage doors.
The most common include the following…
1- Cedar
Perhaps the most ubiquitous choice as cedar is strong, durable, and resists age and rot.
Cedar is considered the best wood for garage doors because it works well in both hot and cold climates and resists chipping and cracking.
However, it is also more expensive than many of the woods available for garage doors, so you will have to pay more.
2- Redwood
If cost is no issue, then redwood should be a consideration for garage doors.
Redwood is quite strong and durable and resists just about any weather condition.
Because of its resistance to moisture and heat, you do not have to stain it as often compared to most other woods.
Unfortunately, redwood is subject to termite damage which other woods, such as cedar, resist.
You will need to frequently look for any signs of infestation to catch any damage in the early stages.
3- Pine
You do not see pine often used in garage doors. But they provide a natural beauty and a scent that makes them a good choice.
Unfortunately, pine must be stained yearly if you want to keep it strong and resistant to the sun and the elements.
But if you do not mind the extra maintenance, then pine is a great wood to improve the aesthetic appearance of your home.
4- Plywood
If you are looking for the cheapest wood available for a garage door and its frames, then go no further than plywood.
However, despite its low cost, plywood does have some advantages, most notably the insulating value that it offers.
That is because the plywood uses soft particle wood in the center, surrounded by harder wood on the outside.
While easy to stain, plywood does not resist the elements like most other woods.
So, while you may not be paying as much initially, maintaining a plywood garage door will cost more in the long run.
5- Composite
This should not be confused with plywood.
Composite doors consist of wood fibers combined with synthetic resins to create a strong, highly insulating material.
In fact, the core of the composite wood is insulation, and the outer wood fibers resist the sun and the elements for a long time.
The cost is also not so bad, which makes composite wood an interesting choice for your garage doors.
The only downside is that a composite garage door does not have the aesthetic beauty of cedar or other solid natural wood.
---
Hardwood or Softwood Garage Doors – Pros & Cons
Apart from composite, the two most common types of wooden garage doors are crafted from hardwood or softwood.
Hardwood for Garage Doors
Hardwood is organic and quite attractive, thanks to the variations of color and grain patterns.
Because it contains long, densely packed wood fibers, it is considered a "hardwood" that does resist impacts and intrusions from pests to a greater degree compared to softwoods.
This means that it takes more to damage a garage door made from hardwood compared to softwood.
Pros:
Of the many advantages, which include strength, endurance is another positive attribute that hardwood has to offer.
This means that with the proper maintenance, hardwood can last a long time, even under trying environmental conditions.
It also helps that hardwood is quite attractive and makes for a pleasing appearance, improving your home's aesthetics.
The densely packed wood fibers also hold the natural color for a long time.
And while not fire retardant, hardwood does resist fire to a far greater degree compared to softwood.
Cons:
Despite its advantages, hardwood is quite expensive, which means you get what you pay for.
And because of their density, hardwood is far heavier than softwood, which may strain the hinges and cause the door not to be level without periodic maintenance.
Softwood for Garage Doors
Softwood is also organic and comes from coniferous trees, which makes it quite available for many different uses.
Softwood often comes in long planks because the trees themselves grow straight and tall.
Because of this, softwood is far less expensive and more available for garage doors compared to hardwood.
Pros:
In addition to being quite inexpensive and available, softwood is also very light, which means it puts less strain on the hinges and tracks.
Softwood is also a good choice for those concerned about the environment since there is less waste generated when using this type of wood for making items.
Cons:
Softwood, as the name implies, is not as durable or strong as hardwood.
You will need regular maintenance and frequent staining to keep the softwood resistant to pests, the sun, and the elements.
And without a strong locking system, softwood is more vulnerable to break-ins compared to hardwood.
This means that an intruder can simply bust or cut their way through the garage door far easier compared to hardwood.
In addition, softwood is not as attractive as hardwood. This is because the grains are not as tight, which allows the color to seep out faster.
In addition, there are usually more knots in softwood, which can take away from its aesthetic beauty.
Softwood is also easier to damage, chip, and crack compared to hardwood.
---
Metal vs. Wood vs. Fiberglass Garage Doors: What's Better?
Metal garage doors will generally require less attention, but their longevity will depend on the specific material (like steel, aluminum, etc.) and the strength of the material you choose.
For instance, steel is much better than aluminum or other metals. However, as a drawback, it will be expensive and carry more weight.
Also, 28-gauge steel, if chosen for garage door material, will not hold up as well compared to thicker 24-gauge steel material.
If budget isn't an issue, choosing a stronger material will ensure that the door endures much better against damages like denting.
Also, if you choose a high-quality steel material, it can be made to mimic its wooden counterparts.
Wooden garage doors, on the other hand, will insulate better than metal doors and are not prone to getting rust.
As a downside, however, wooden garage doors are often custom or semi-custom built and, therefore, cannot be mass-produced in a factory.
This means that the cost of wooden garage doors is on the higher side of the spectrum compared to metal doors.
Metal Doors
Wooden Doors
Fiberglass Doors
Material Cost:

Basic

: 750 to 1,150


Higher quality

: 1,200 to $1,500

Basic

: $500 to $1,450


Higher quality

: $1,500 to $5,000


Custom built

: Can go as high as $10,000

Basic

: $800 to $1,200


Higher quality

: $1,200 to $1,550
Installation Cost:
$200 to $350
$325 and $450

$140 to $450

Equipment & Supplies:
$30 to $80
$80 to $120
$80 to $130
Fiberglass garage doors are also getting much more popular due to their lightweight and higher level of insulation.
These doors usually come with a composite structure that comprises of steel core underneath the fiberglass exterior.
Many of these fiberglass garage doors also have an outer polyurethane insulation coating to improve energy efficiency. This also makes them highly resistant to degradation and warping.
Despite their advantages, the major reason why wood garage doors are generally preferred by homeowners rather than fiberglass – is the unmatched looks and durability of wood.
---
Alternatives to Traditional Wood Garage Doors – Cheaper, Stylish & Functional
Looking for garage doors that don't exactly look like wood doors!
Here are some options for you, including DIY replacement ideas and tips.
1. Sheet Metal Doors
While the appeal of sheet metal doors may not be instantly obvious, there are many reasons why they are a popular alternative to standard garage doors.
The aesthetic of the industrial look will begin to grow on you, something that is sure to be helped along by just how cheap they are when you compare them to standard garage doors.
It is easy to install them yourself so long as you are comfortable cutting sheet metal on your own and know how to cut it into the proper size.
After the cutting is finished, all you'll need is a handle and some hinges to turn it into your brand-new garage door.
Placing a handle on the sheet metal door will allow you to use it as a door that swings outward to allow you to go into the garage manually.
You could also make it a roll-up door, which can be more difficult to do, especially if you are insisting on DIY work.
Sheet metal tends to be the most popular choice of material for roll-up garage doors. Some people choose to use simple latches to keep the sheet metal door closed.
Though this won't necessarily keep it secure or airtight, it is just fine to do.
Regardless of whether you are cutting your own sheet metal to do the job or are enlisting professional help, it is among the most cost-effective alternatives to garage doors.
2. Barn Doors
If you are a fan of country houses, barns, and general rustic decor, you will love barn doors for your garage doors instead of traditional ones.
It is easy to buy a barn door already made and then restore it and revamp it to suit the measurements of your garage. If you are inclined to DIY work, you could also simply build your own.
Keep in mind that you will likely shell out more money for these doors than the others. Unless you run into an old inexpensive door you can restore on your own, you should expect a higher price point.
Be sure that you take note of the standard garage size for your carport by noting how many vehicles can fit into it.
Even so, you may ultimately spend all of that money you saved up to restore the door, so it makes sense that building your own barn door is one of the most common options.
It just takes some wood cutting and measuring and a little bit of knowledge of carpentry. To make it an easier process for those who aren't quite as handy, a lot of hardware stores may also sell DIY kits for barn doors.
This speeds up the process, though it will also ultimately cost more than just building your own without the use of a kit.
No matter which way you cut it, whether you build your own barn door or restore an older one, it is likely to be an expensive undertaking and a labor-intensive one as well.
If you are comfortable with the price, time, and effort needed to have one, then you are likely to find it well worth it.
3. Roll Up Screens
Roll-up screens are a good way to save on cash when looking for a garage door alternative. This is especially true if you are alright with not having any real security measures in place.
While these screens should not be your first line of defense against burglaries, they do a great job of keeping out sunshine and pests.
They are also super simple to install. You could also install them right behind your garage door, so you can leave the main door open and get the breeze from outside without all of the biting insects.
Another tip to keep insects at bay would be to bring in some potted plants that are known to repel them.
These screens are remarkably cheap, especially when you compare them to a traditional garage door.
Since the installation takes very little time and is quite straightforward, you can begin using that screen in no time at all. This also makes it one of the swiftest garage door installation options around.
The job only gets simpler if you use a roll-up screen kit with everything you need, including instructions, to help get the job done.
It is also possible to skip out on difficult closure installations and just use magnets instead, letting you walk through the screen hands-free with the screen parting and closing again behind you.
As mentioned, keep in mind that there is a compromise on security that you will have to contend with if you go this route.
This is because these screens typically cannot be locked; so, if you are someone who keeps a lot of tools and other types of equipment in your garage, you may not want to choose this option, no matter how much money you can save doing it.
Keep in mind that you also won't be able to expect the garage to stay warm during the winter, although it will be a nice luxury during the hot summer months.
4. Fiberglass or Faux Wood
While many people would naturally prefer to have real wood for a garage door replacement, this material isn't always good for being weatherproof, budget-friendly, or maintenance-friendly.
You can instead use fiberglass or faux wood door to get the same rich, grainy look of real wood with all of the benefits of the above.
Depending on the material you choose, your garage door can end up looking quite close to the real deal to the point it will be next to impossible to tell the difference.
Furthermore, since wood fades, cracks, and sometimes can downright disintegrate if it is not maintained and regularly cleaned, that is not a problem using fiberglass or faux wood.
Faux wood doors that have the right kind of fiberglass filling them hold their shape for much longer and are incredibly durable, even in the face of exposure to the elements.
5. Carriage Doors
Another good option for DIY lovers is to use carriage doors. They are remarkably charming and can completely revamp the aesthetic of the garage area, which is an often overlooked area in terms of appearance.
If you are comfortable with woodworking and other carpentry skills, it can be an easy task to make carriage doors. It basically involves building a garage door frame and then cutting boards to fill in the door.
You can use a latch and hinges to attach the door to the walls and then close up both sides. This Old English rustic aesthetic is especially beautiful in country homes.
Many people with carriage doors like to include a small window in the carriage door, as it brings out even more charm.
You could install a window on the top of each door or instead install more than one small window to create the finished look that you prefer.
The doors can also be painted or stained to your liking to match the walls inside or outside.
You could install some shelves beneath the windows as well. Carriage doors offer a world of customization opportunities for you to work with.
6. Sliding Doors
When you want to prioritize convenience above all else, there are few things that compare to the utility that a sliding door can bring.
Many take preference for this style of door, no matter what the size of the door may be. This style brings with it a bit of sophistication and class that few other styles can.
Much like many other alternatives to garage doors detailed so far, sliding doors also come in various styles and with many customization options.
The most popular setup and design are the ones where two doors move outward from the vertical center line of the opening.
Even so, you could go for something a little different, like multiple narrow panels in a vertical orientation on either side.
This will ultimately make for a larger door as well. You could also install a remote-controlled system to make the doors even more convenient.
Sliding doors can be quite expensive, however, and there are a few things you should keep in mind when you choose to install them.
Firstly, note that the tracks will not always fit flush and firm against the ground, something that may affect the overall orientation of the door itself.
This, in turn, means that the weather resistance of this kind of door is rather low when you compare it to some of the other options you have available to you.
Alongside this, there is a good deal of debris and dirt that can build up and require more frequent cleaning or even replacement in some cases.
7. Tilt-Up Doors
When it comes to appearance and aesthetics, a door that tilts up is pretty similar to an overhead garage door.
The main difference is that they have a single-panel style instead of multiple horizontal ones.
This type of door is quite cost-effective, though the low price point can often be dwarfed by the various downsides to this style of door.
For one, since they only have one single heavy panel, lifting the door regularly will strain the motor and other aspects of the frame.
This means that it isn't reasonable to expect the door to last a long time without replacement or intensive maintenance needs.
Unlike roll-up doors, tilting doors often kick out when they are lifted, which will require plenty of space on the outside for them to move.
Be sure that the adjoining driveway is free from any obstacles for the door to be able to smoothly operate.
8. Side-Hinged Doors
Last but not least, side-hinged doors are one of the most popular and uncomplicated mechanisms for garage doors, which attracts many homeowners to them.
They can be operated either manually or through a motor, depending on your preference.
If there is not much space within the garage for you to install a swinging door, then you may find the perfect alternative to be the side-hinged door.
Another perk of this style of door is that there is next to zero chance that the door will fall and crash on you, even if the spring breaks. These doors can also be built from practically any material, from metal to wood.
That said, side hinge doors aren't totally without flaws. If you don't have enough space outside of the garage, these doors won't be of much use to you, as there will not be enough space for them to open.
The door will likely hit your car if you keep it too close to the garage, for instance.
Similarly, more than six inches of snow accumulating on the ground can also cause an obstruction.
9- Folding Doors
Folding garage doors are a type of door that opens by folding back in sections rather than swinging out like a traditional door. They are becoming increasingly popular for a few reasons.
First, they occupy less space when open since they fold back against the wall rather than swinging out into the driveway or garage. This can be a major advantage if you have a small garage or limited space to work with.
Additionally, folding garage doors can provide better insulation than traditional doors, helping to keep your garage cooler in the summer and warmer in the winter.
Finally, many people find them more aesthetically pleasing than traditional garage doors.
Whether you're looking for a new garage door for practical or aesthetic reasons, folding garage doors are definitely worth considering.
Final Thoughts
Wooden garage doors are making a big comeback.
They are sure to add aesthetic value to your home, which not only makes it more attractive but also may increase the sale value in case you decide to move.   
Besides choosing the right kind of wood, the finish that you choose for your wooden garage door should not be overlooked as well.
Most homeowners will go for natural staining, which makes the wood appear in its natural state. However, you can also paint the doors to match the color of the rest of your home.
Varnish is also a popular choice, mainly if you use a glossy finish that can bring out the beauty of the wood.
Be sure to choose a varnish that matches the type of wood that you are using for your garage door.
Share the post "What Type of Wood to Use for Making Wooden Garage Doors?"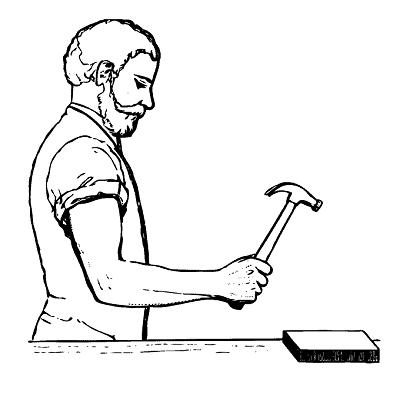 Hi, I am Mark Garner a professional carpenter, woodworker, and DIY painter. I live in the small city of Peoria, Arizona as a semi-retired woodworker. I have started this blog with a simple motive to help you with my wood experience in this sector. If you like to know more about what I love doing and how it all got started, you can check more about me here.