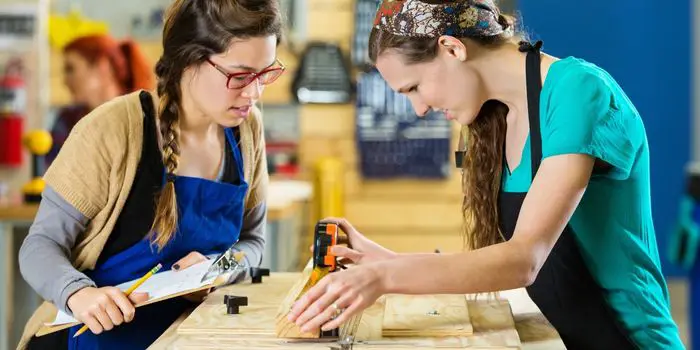 Creative activities like woodworking are good for your brain. These projects need various sections of your brain, including memory, attention span, and problem-solving abilities.
They're a fantastic method for keeping your mind and body active as you age.
And that's the reason woodworking is a creative talent that many retired people value not just for its products but also for the level of its satisfaction.
Even a basic woodworking project may be transformed into a valuable household item that provides you with a sense of accomplishment when you look at it.
If you're intrigued, here are some simple woodworking projects to get you started. They are not only great for seniors but also students and teens as well.
For the elderly at home, it's good to involve your little ones, which will excite them and give you some time to do your own thing.
And do I mention that all these cheap and easy-to-build woodworking projects are highly sellable in the markets (online and offline)?
So if you want to make some extra money while enjoying your creative hobby, this is a way to go that can help you make good use of your time and efforts.
Do not forget to share revenues with your partners as you "grow" bigger in your new business.
Rustic Picture Frames
You can never have too many picture frames, and this is a project that anyone can do regardless of skill level.
You can make them out of reclaimed timber or new wood or even use old picture frames you're no longer using.
Particularly if you enjoy taking pictures and printing them out, why don't you put them up on your walls in creative rustic frames that you made yourself?
It'll add a personal touch to your home, and it's a thoughtful, quick-to-sell present for those looking to buy something unique for their friends and family.
It won't be the most simple task on this list, but if you have any prior experience with timber cutting and joinery, it will not be difficult.
It could be an excellent opportunity to put your woodworking skills to good use as a novice. The end result is beautiful, regardless of whether the salvaged wood was used.
Wooden Shoe Organizer
If you're passionate about shoes like I am, you probably have too many lying around your house.
An excellent way to show off your collection and organize them simultaneously is by building a sneaker rack.
Just make sure to use materials that can handle dirt and wetness so they will last as long as possible.
Design it however you want and add some personality to it. And finally, place it inside or outside your home, depending on where you want it.
And as I mentioned, you can even sell these DIY shoe racks online at places like eBay or Etsy, as they make great gifts for people who love shoes and are always looking for new ways to store them.
1- Pencil Holder for Kids
A pencil holder is not only sensible, but it also looks great on a desk. If you want to add some meaning and functionality to your study table, go for a rustic theme design.
You can start with 4×4 garbage wood that you can easily find at home.
Then, use a hand-held drill to bore holes (the number of holes generally depends on the size of your wood).
Lastly, insert the desired number of pencils into the holder to showcase your project and sell at a marketplace like
2- Candle Holder Centerpiece                          
The rustic candle holder looks lovely as a centerpiece, especially during the holidays. You can consider placing it on the table with Christmas decorations instead of that gorgeous candle holder.
This task may sound simple, but you must be careful and precise since it involves circles. In addition, every hole must be smoothed.
Most importantly, ensure that the wood is not affected by the flame or heat; otherwise, it may catch fire and cause destruction.
These personalized candle holders are stunning for bedrooms, living areas, and baths. It's also possible to customize it for an exquisite candlelit dinner.
So, people will definitely love buying them if you have something nice to offer.
3- Wine Rack for Wine Lovers
Wine has become a creative art to drink as well as to craft. You take a deep breath while drinking, inhaling the tannins, and appreciating the rich, red wine taste.
If you already have some spare wood lying around, pallet wood, or even old decking boards, you can create your wine rack to store the bottles of delicious liquid in your home.
They're simple to produce and don't require much equipment or complicated skills.
All you need is some scrap timber, perhaps some pallet wood or even some old decking planks, and a few ideas on getting started on your new pallet wood project.
Wood glue may be required for building a rack, so double-check the instructions before you begin working on your wood project.
Adding a little individuality to your house with woodworking projects that sell like this is easy.
4- Wooden Chopping/Cutting Boards
A wooden cutting board is a fabulous, practical project that anyone can undertake- no experience necessary. Plus, they are easy and cheap to make, especially if you love cooking.
A cutting board is an everyday item we use to prepare our food. Cut, peel, and chop using a special board you've made with care.
All you need is a piece of timber (which you can easily find at your local hardware store) and some inspiration. Adhesive durability and water resistance are key when picking out supplies.
You may personalize it with stripes, patterns, or shapes or go for a basic and practical cutting board that lacks a handle.
Use your finished product as kitchen decor or give it away as a thoughtful homemade gift.
Cutting boards are long-lasting but must be replaced when they wear down. So, they do sell well and are in regular demand.
5- Wooden Magazine Rack
Look no further than this DIY wooden magazine rack for those looking for a stylish way to organize magazines.
With just a few simple tools and some wood, you can build your custom storage solution that will keep all your reading materials tidy and organized.
Plus, it makes for a great conversation starter when your guests come over. Excellent for seniors and teens, this can be a perfect addition to any home.
And can even be sold at a great price if you design it with some creativity.
6- Wooden Birdhouse
This project is perfect for those who love nature and want to help the environment by providing a home for our feathered friends.
Building a birdhouse is an excellent way to recycle old timber and turn it into something functional and beautiful.
And the best part is you can make it as straightforward or as complicated as you want. Just use your imagination and get creative.
Although this might be one of the most popular project ideas, it isn't the easiest to execute – just like coming up with a good layout plan for a woodworking shop.
If you're new to this task, you might need some assistance.
But birdhouses are also notoriously versatile; there's a nigh-infinite number of ways that you can personalize them.
You could make a full-fledged replica of your home, complete with detailed trim work and hanging seed feeders.
Or, if you want something more minimalist, create a simple wooden box with an entrance hole large enough for smaller birds to fit through comfortably.
7- Jewelry Box for Jewelry Lovers
A jewelry box is essential for those with an excess of jewelry. And I am sure every lady wants to be in that category.
Jewelry boxes are easy to make and can be sold for more than store-bought options if you put in the effort.
All you need is pallet wood from your local hardware store, wood glue, and different hand tools.
Once you understand how to make a basic jewelry box, you'll be able to branch out into other types of boxes, like larger storage chests or keepsake boxes.
We adore the storage box coffee table hack because it helps with organization and can store items that you want out of sight.
It works perfectly as a toy box to keep all your children's wooden toys off the ground and well organized.
So, if you go ahead and try them, nothing is stopping you. All these items sell very fast as they are hugely in demand among ladies and homemakers.
8- Wooden Box Shelves
Many boxy designs are available today because it is easy to create home decor with a simple square design.
With floating shelves, you can make your checkered designs; if they are made well, you can easily make money with them. They are inexpensive to build, buy and sell.
Plus, these box shelves are versatile and can be designed to any size to become almost anything you want.
For example, Woodsnap prints can be placed strategically on walls, under beds, tables, or couches, or just scaled down and put on tables and countertops.
No matter where these are put, these shelves will make a home look great at a very affordable price.
9- Wooden Remote Control Holder
A great project to sell to those with many gadgets, a remote control holder or a DIY cell phone docking station is perfect for those who want to keep their coffee table or end table tidy.
Most people never go more than a couple of hours without their phones. A phone stand or docking station would be an excellent way for them to charge and hold onto their devices.
It can also be a wooden desk organizer remote-control stand or a stand for other accessories (like papers, files, and pens).
You can turn an old piece of wood into a beautiful and functional storage solution with just a few cuts and some sanding. Or even add some decoration to the holder to make it more personal or unique.
This is an excellent project for seniors, college students, housewives, or beginners just starting in woodworking, as it doesn't require any complex cuts or joinery.
10- A DIY Chessboard
This wooden chess set is sure to appeal to chess players. It appears to be a little more difficult than usual, but if you follow the step-by-step instructions, you'll be able to finish it.
This one generally sells quickly. Chess pieces may be tiny and delicate (depending on which ones you purchase), and transporting them around with a chessboard can be inconvenient.
Use a chessboard that can hold all of the pieces to easily avoid this problem. Simply lift the board and remove the cover to reveal your pieces. You may even construct your chess piece parts if you improve your woodworking skills.
11- Wooden Toy Building Blocks
Looking for a fun, easy way to make money; why not put your woodworking skills to the test and create something that kids would love?
Also, you should consider catering to children if you're looking for a new demographic to sell your wood projects to every new year.
Building blocks are fundamental toys for kids that help them build motor, cognitive and spatial awareness skills. You can make sure your wooden toys are loved by building them yourself.
You may easily construct a wooden play kitchen, baby gym, or toy automobile. Plus, you'll be adored by your kids for it. And these are fantastic fun for parties.
Alternatively, if you wish to involve your grandchildren or school-going teens in the making process, ask them for assistance and have some good old-fashioned woodworking time together.
12- Large Pallet Wooden Pallet Sign
This is a fantastic gift for any special occasion. Use any design or text you like, and make this sign as personal as possible.
You may also take orders from customers and businesses for these near you.
All you need is an old wooden pallet, some paint, and a stencil or two to create this fun and unique pallet work.
Remember, customizability is a top factor in finding the perfect sign. Fortunately, with technology today, you can easily find a name or personalized message sign online.
You often have more control over what the final product looks like too. Maybe adding a few more hearts or taking away some patterns and designs would be more up your alley.
In other words, you don't have to settle for whatever choices are available in store; if you don't see anything you like, simply make your own. This makes personalized wall signs or messages much easier to sell.
13- DIY Wooden Bathtub Caddy
A wooden bath caddy is one of the most exciting woodworking projects on this list that sells like a hot cake. These things make money due to their utility – they save time.
Wood items are popular in your kitchen, bedroom, living room, and dining area, so why not in your bathroom?
The bath caddy is also a great DIY plywood project idea. A bathtub caddy keeps all the products you like to take with you into the tub.
We're talking about a notebook, laptop (but be careful), candles, an excellent book, or food. This is what we call "me time."
14- Sellable Wooden Wall Planters
There are numerous ways to make money by selling planters. The sky is the limit regarding your wall planters' design, size, and material.
The first step is deciding what style you want to make. Mid-century modern? Farmhouse? Boho? or something else that can sell even faster.
Once you've decided on a style, find inspirational images online at places like Instagram or Pinterest to help you get the idea.
A wall planter crafted with wooden pallets goes great with any design.
Instead of wasting time visiting the regional craft shop, you can save time by using old wooden boxes or finding something comparable.
With a little effort, you can make it look like a professional wall plant box made of wood.
If you enjoy gardening, you will surely love to construct a wooden wall planter. With no crops, a home just wouldn't seem the same.
So make a wall planter that's light, comfortable, and large enough for various plants and flowers.
 You may use it as décor in your space, save some room in your garden, or just sell them for a handsome profit by showcasing your work on various social media platforms or Facebook groups.
15- A Comfortable Bed for Dogs
Why not start a bed for a dog if you're stumped for woodworking ideas?
No matter what dog species, you can quickly make a comfy pet bed with essential equipment like a saw, a jigsaw, a mallet, and other measuring instruments.
Plywood or MDF may also be used for the main frame. Make sure to consider your canine's measurements before finishing it. After that, all you need is a mattress and a comfortable pillow.
16- Dog Kennels for Outdoors
Another alternative for things in great demand and simple to construct is indoor dog kennels.
Many people dislike the appearance of an unsightly wire cage in their house, making it simple to create something that looks fantastic while yet providing adequate area and space for the dog.
They may be built tiny for little dogs or expanded all the way up to enormous proportions for bigger breeds.
You can make a simple kennel design that sells fast with only a few old pallets or boards.
They are easy to create and look fantastic. The main drawback is that they take up a lot of room; therefore, if you don't have a lot of storage space while putting items on the market to sell, consider it.
Another disadvantage is that they may be rather hefty, so you should consider them when selecting a local delivery option.
17- Cat Houses and Trees
You never know how many cat lovers and owners are out there who are looking for some great designs and ideas for their beloved cats.
So, if you're searching for a project to do that is not only easy but also sells like crazy, make some cat houses or trees.
You don't even have to be a professional carpenter to build one. With some old boards, some nails, and a little bit of elbow grease, you can easily put one together in no time.
Not to mention, these make great gifts for the holidays or any other special occasion.
Not only are these easy to make, but you can price yourself competitively against the big box stores. These often sell for hundreds of dollars or more.
18- Wooden Clothes Rack
If you love the idea of a minimalist who doesn't want their clothes taking up space in a large wardrobe, consider making a simple and chic clothing rack.
You can use untreated pine for the wooden pieces to keep them natural and low-maintenance.
This is also great for displaying favorite items or accessories while freeing up some cupboard space.
You can make a single rack or two racks side-by-side. You could also get creative and make a V-shaped rack if you feel ambitious. Make sure the base is broad and sturdy enough to support all your clothes.
19- Deck or a Garden Bench with Storage
If you're willing to put in a little extra effort, these wood projects can fetch a higher price tag.
Sure, outdoor projects are always enjoyable, but they don't have to be as difficult or involved as something like a cornhole set. Wooden benches come in all sorts of shapes, sizes, and colors.
Plus, they often carry sentimental value – you can make one for yourself and your clients. When it comes to doing big wood projects that sell well, customization is key.
Let the customers etch their names into the wood or create something entirely different from the original plans.
If you want, you can charge a bit extra for this, making it a win-win for both parties.
20- Cornhole Wooden Set
This is one of the most popular and easily sellable wood projects out there. It's a classic game that can be enjoyed by people of all ages, making it perfect for tailgates, cookouts, and more.
To make your own cornhole set, you'll need two wooden boards, some fabric, and a few other materials.
The great thing about this project is that it's relatively easy to put together, but it can be customized to fit the buyer's style.
21- Wooden Utensils for the Kitchen
Not only are wooden utensils necessary kitchen items, but they can also be quite beautiful. And the best part is that you can make them yourself with just a few simple hand tools.
You can make all sorts of utensils, from the simplest spoons and forks to more elaborate designs like turners and scrapers.
You can also add a personal touch to each one by carving or burning a design into the wood.
As long as you have access to the right piece of wood and some trustworthy tools, you can create your next spatula or salad fork in no time.
22- DIY Wooden Key Holder
Creating a keyholder is simple and can come in handy. Grab some blocks of wood (or logs) along with some simple or designer hooks, and you're good to go.
The keys will be organized and hung neatly instead of being misplaced constantly. These can even be put by the door, so your customers never forget them when leaving the house.
23- Reclaimed Serving Trays
With this easy project, you can impress your partner on the weekend by bringing breakfast to bed.
This serving tray is one of the most straightforward items listed, but it's also one of the most practical. You can make a specific tray from reclaimed wood; it's quick and easy to do.
To minimize skin irritation, ensure to fully cover each joint and sand the surface to avoid scraping your skin. Reclaimed serving trays are both beautiful and functional.
Compared to plastic materials, wooden platters never become obsolete – so they are always in high demand when you need to sell them.
24- Welcome Doormat Made of Wood
A wooden project doesn't have to be cumbersome or take up a lot of space; it can be small and welcoming, like a doormat.
Doormats can be easily made from different wood planks, pallets of scrap wood, or just one chunk of wood.
Customize your new project by chiseling, stenciling, or pressing designs and words into the wood, or leave it plain and simple for that rustic feel.
If you're planning on keeping your doormat outdoors, treat the wood so it's weatherproof when you're all done.
25- Wooden Glass Holder for a Sofa
I am sure many of you haven't heard of this idea before. And if you think it's complex to make, I bet you're wrong.
This project is not only unique but can be very useful as well. If you have trouble reaching your water glasses or coffee cup while relaxing on the couch, this project is for you.
With just a few cuts and sanding, you can create a glass holder that will make your life much easier. And if you're feeling ambitious, you can make a few different holders for various types of glasses.
Just put it on the edge of the armrest, and you already have stable support for your drinks and snacks.
Teenagers and students can even put their popcorn there while studying or watching a movie. You won't have to spend a lot of money on tools and materials for this project, either.
You'll only need the appropriate measurements of your sofa's armrest to ensure it fits the wooden glass holder. Most importantly, confirm that it is durable enough to hold at least two glasses of water.
26- A Simple Bedside Table Square or Rectangle
If you have trouble keeping your bedroom neat, this is the weekend project to try.
Despite the fact that this woodworking project is somewhat more difficult than the others on our list, you may still create attractive bedside tables.
Because this woodworking construction does not take much time to complete, it's simple to construct as long as you put effort and attention into it.
Following a few tips will help you create beautiful, successful pieces. To start, practice with a simple square or a rectangular nightstand.
Don't get overwhelmed by the details; just focus on perfecting the basics. With time and practice, you'll be able to move on to more complex projects with creative designs that contain grooves and other features.
And as you become more experienced, you might want to consider using different kinds of wood for the same project.
This will give you a more diverse range of colors and textures to work with, thereby allowing you to earn even more.
27- Wooden Chairs And Stools
Creativity knows no bounds, especially when you have been a professional furniture maker in the past.
Why not try your hand at making chairs and stools that are both comfortable and stylish?
You can even make an outdoor chair where you can enjoy the sun and play your guitar or watch the sunset with a cup of chocolate.
 It's easy to get started, even if you're a beginner woodworker, so why not give it a try today?
You may look for some ideas on the internet and other sources of inspiration. Start by making a list of the items you'll need.
Don't forget to create a strategy and create drawings. Finally, find and purchase any needed materials.
In the beginning, don't worry about being fancy. Feel free to construct a durable patio chair that is sturdy and colorless – it can be used anytime.
28- Wooden Drink Coasters
I would say these are the simplest and smallest woodwork pieces to make for seniors and students.
But since they sell quickly, you can build many designs and can sell tons of them to make a quick profit.
Just like cutting boards, wooden coasters are fun to make and can be very practical and useful items. They are also easy to customize in size, shape, design, material – anything you can think of.
29- DIY Wooden Letters
Useful and practical items always sell well and can help you get started in an online woodworking business.
So, why not design some simple items for kids that are educational as well as entertaining?
One great idea is to make wooden letters and artwork for toddlers. You can make them out of different woods, paint them in different colors, and even add some decorations.
You can also make them in different sizes to be used for different purposes.
For example, you can make small letters for kids to use as magnets or large letters for them to use as decorations in their room.
30- A Farmhouse Coffee Table
This one is not pretty easy to make and is for those passionate about woodworking. You can try making it even if you haven't worked before but have a passion for learning and growing.
A coffee table is a simple furniture-making project that anybody can do, so it's a good place to start.
You may make this item as detailed as you like, but it only requires table legs and a flat top surface.
However, if you're looking to sell something at a higher price point and prefer bigger DIY projects, consider making a coffee table or other smaller pieces of furniture, such as a nightstand or shoe rack.
Woodworkers who gain more expertise might profit from this simple furniture making.
31- Wooden Frame for Flash Drives
If you're a computer science student and are looking for something to do with your flash drives, why not replace the usual plastic frame with wood?
It's easy to do, requiring only a small piece of wood and some other materials. The result is an aesthetically pleasing frame that will make your desk look more organized.
Plus, it's a great way to show off your woodworking skills to your friends and classmates. You never know if you will get some orders while doing that.
32- Decorative Cookbook Stand
Cookbook stands are always in style and make great gifts for any occasion and any time of the year. If you like to cook or just like to eat, then this is the project for you.
A cookbook stand is also a great gift for aspiring chefs and cooks that every teenage child love to get.
What's more, it can be personalized to include the recipient's name, making it an extra-special present.
You may use it as a tablet computer stand, too. As a result, you can watch cooking tutorials on Youtube on this device readily.
It's preferable if you have some wood pieces at home by chance. This job is simple enough for novices, even if you don't have much expertise.
33- A Giant Tic-Tac-Toe
You can enter your teenage years by also upgrading your tic-tac-toe games. Not only is the game enjoyable, but it is also an ideal Christmas gift.
You can either shape pieces of wood into cubes or just buy pre-shaped materials to save some time. Then, you will simply paint it with 'X' and 'O' – the usual signs of tic-tac-toe.
You will be all set with some wood stain, sanding, and color variation.
Creating several sets at once will make this project even more cost-effective because one tray of these upgraded cubes will cost less than $15. So, this gift you can make for less and sell for more.
34- Wooden Tree Swings for Tree Lovers
Do you live in a location with trees on all sides? Why not target the same audience?
Build wooden tree swings that are easy to make and can sell fast.
Ideal for leisure, breathing fresh air, and contemplating the world, it's feasible to create wooden tree swings for anyone.
Just make sure you have the appropriate supplies and measurements. Furthermore, make it sturdy so that you don't fall off when sitting on it every time.
35- A Laptop or iPad Stand
Laptops and other devices are becoming our lifeline – as we now live in a digital world. If you have a knack for woodworking, you can make a laptop or iPad stand and sell it to them.
Creating this item is not difficult, and you can make it as simple or complex as you want.
Plus, there's always a market for laptop and iPad stands because people are always searching for ways to make their lives more comfortable.
36- Mason Jar Sconces
People love mason jars. They're perfect for canning and other purposes, but they can also be used to hold candles, flowers, and other decorations.
If you're looking for a fun and practical project, then Mason jar sconces are the way to go.
They're easy to make and can be customized to fit any decor. Plus, they make great gifts for any occasion if you add some wooden designs creatively into them.
For example, add a piece of wooden heart if you're making it for Valentine's Day and paint it nicely in red.
37- Pet Bowl Stand
Do you have a pet? Or do you know someone who does? If so, then a pet bowl stand is the perfect project for you.
Pet bowl stands are both functional and stylish and can be customized to match any decor. Plus, they make great gifts for pet lovers.
If you're looking for a fun and practical project, then a pet bowl stand is the way to go.
38- Fishing Rod Holder
Any fisherman with more than one rod knows the difficulty of storing them properly.
A fishing rod holder is another great way to keep someone's supplies organized and in one place, making it a popular gift for fishermen or anyone who enjoys the outdoors.
You can make a fishing rod holder out of any type of wood, but cedar is a good choice because it's lightweight and weather-resistant. Just be sure to sand and finish the wood properly so it doesn't warp or splinter.
39- A DIY Mail Sorter
A mail sorter is a great way to organize your desk or countertop. And it's a project you can make in just a few hours.
All you need is some wood, a few nails or screws, and some paint or stain. You can also add some hooks to the sides to be used as a key holder or coat rack.
40- Christmas Ornaments
With a laser cutter and engraver, wood router, or tools for woodturning at your disposal, you could create Christmas ornaments of all shapes and sizes.
You could make festive holiday shapes such as snowflakes or personalize custom orders for special gifts.
This is great to try for someone who is already into woodworking and wants to add a seasonal spin to their products.
Making seasonal and holiday decorations is another excellent alternative to explore.
There are several holidays to think about, including Valentine's Day, Halloween, Thanksgiving, Christmas, and more. So the more you make, the more you can sell them throughout the year.
41- Woodburning Art for Skilled Seniors
Woodburning art is a popular way to decorate wood, a skill that's not difficult to learn.
With a steady hand and patience, you can create beautiful works of art that people will be happy to display in their homes.
You can sell woodburning art as individual pieces or as a set.
And if you're feeling ambitious, you can create a series of pieces that tell a story or depict a scene.
42- A Wooden Bottle Opener
A bottle opener made out of reclaimed timber is an exciting one. It would be a great project for anyone who loves to work with wood but doesn't have any prior knowledge.
While not overdesigning and making them simple, you should just target the customers who are looking for a durable, eco-friendly, and stylish way to pop their bottles open.
43- Customized Wooden Hangers
This a great project for anyone who loves woodworking and sewing. You can make these hangers out of any type of wood, but they look best when made out of maple or cherry.
Just be sure to sand and finish the wood properly, so it doesn't splinter or warp.
To make these hangers unique, you can add a custom monogram or design.
This is a great way to personalize a gift for someone special, so it's highly sellable on online marketplaces like Amazon, eBay, and even Facebook, Instagram, Pinterest, and other social media platforms.
44- Butterfly House
If you haven't heard of them before – butterfly houses serve to give butterflies a place to take refuge and rest, hidden from predators. They make for lovely garden additions.
The construction of these houses is not much different than making a birdhouse; the only change is that you create slots instead of holes.
They make lovely presents for Mother's Day and are hot sellers during spring and summer. And they are easy to make with just a few tools and some wood.
45- Picnic Tables
Picnic tables are one of the most popular items among woodworkers because they are so useful and easy to make.
And if you have the proper tools, you can make them out of just about any type of wood.
Picnic tables are useful in the garden, and as more people now spend time at home outside, there will be a lot of buying interest for them because they provide individuals with a place to dine and socialize.
So if you can go overboard and add some personalized touch, you can even charge a higher price.
46- Wooden Soap Dispenser
A wooden soap dispenser is a unique and stylish way to dispense soap, and it's simple to make for anyone. All you need is a wood block, drill, and soap dispenser pump.
This project is perfect for those who are looking for an easy and quick project that still has a high degree of customization.
You can make these dispensers out of any type of wood, and they look great in any bathroom or kitchen.
47- Wooden Keychains
I have mentioned the key holder before but not the key chain.
Just like the boards that can hold your keys, wooden keychains are functional and a great way to add a personal touch to the keys.
They are also a great project for anyone who wants to add some personalization to their things or as a gift for someone looking for unique keychains for their home, office, or vehicle keys.
48- Recipe Boxes
If you are a cooking student or senior who spends a good time cooking, you are already aware of how important it is to organize your recipes.
A wooden recipe box is perfect as it can be personalized with the recipient's name, what type of cuisine they like to cook, or any other creative touch you can think of.
49- Rustic Potting Bench
Many individuals are taking up gardening as a new hobby, so potting benches have become increasingly popular in recent years.
They provide gardeners with a comfortable place to work without having to bend down constantly.
If you're going for the rustic look that often accompanies greenhouses or potting sheds, you can use leftover wood from other projects.
When designing your own potting bench, try to make it counter height (around 36 inches tall) and around 36-48 inches deep.
This will give plenty of room to add shelves or other features and provide ample space to work.
50- Raised Garden Beds
Much similar to the above project, raised garden beds have become popular in recent years as people are trying to get into gardening.
But unlike potting benches, raised garden beds can be used indoors or outdoors, allowing fresh homegrown vegetables.
Raised garden beds are simple to construct if you can build a box. They can be made of any type of wood, but cedar is a good option because it's naturally rot-resistant.
If you're selling online, these are most effectively offered as kits because shipping expenses should be kept to a bare minimum.
Simply pre-drill the holes and sell the wood planks with instructions or a helpful video, and your consumers will have a beautiful raised garden bed in no time.
51- Wooden Trash Can
Trash cans are a necessary evil in every home, but they don't have to be an eyesore.
A wooden trash can is both functional and stylish and can be made to match any type of decor.
The great thing about this project is that it can be made out of scrap wood, so it's perfect for anyone who is looking to save money or use up wood they already have.
52- A Valet Organizer
A valet organizer is a storage device placed on a nightstand or dresser where you can put your pocket change, phone, and other personal items.
It's the perfect way to achieve a tidy space near your bed without cluttering your bedside table. You may need them more than you think.
This project is perfect for seniors or students who want to downsize and declutter their living space.
Valet organizers can also be a great gift for the elderly suffering from Alzheimer's or dementia, as it helps to keep their things organized and within reach.
53- Wood Play Kitchen and Other Toys
A play kitchen is one of our favorite toys as youngsters, and they are always in demand for both boys and girls.
If you look at the price range for plastic ones, you'll find that a real wood one can sell for $150-$450.
These may be readily constructed from a simple box frame and some decorative paint to personalize things like stove burners or fit your client's style.
You can even consider creating some play stands, dollhouses, play tables, or even a toy organizer that sells pretty fast.
These all would be great for Christmas gifts or birthday presents for children.
Final Thoughts
There you have it – over 50 great woodworking ideas perfect for seniors and students.
With a bit of creativity, you can quickly turn these projects into money-makers at your next garage sale or craft fair.
Don't forget to share this list with your friends who are always looking for new project ideas.
Share the post "50+ Easily Sellable Wood Projects for Students and Seniors"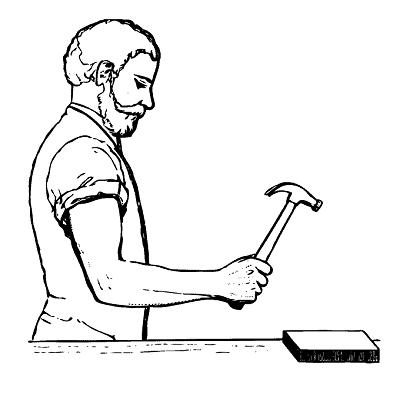 Hi, I am Mark Garner a professional carpenter, woodworker, and DIY painter. I live in the small city of Peoria, Arizona as a semi-retired woodworker. I have started this blog with a simple motive to help you with my wood experience in this sector. If you like to know more about what I love doing and how it all got started, you can check more about me here.