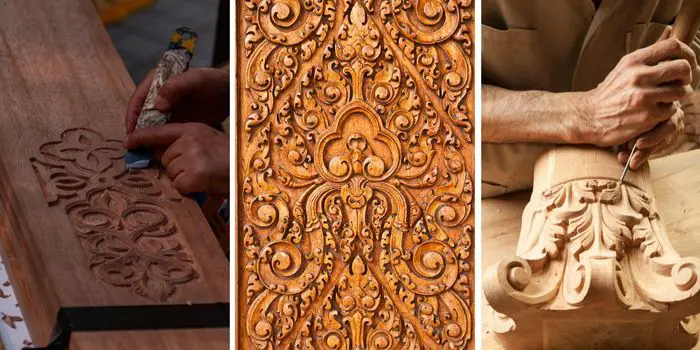 Woodcarving is a gratifying art that asks for much expertise and time to be excellent.
If you're only beginning or have been doing it for years, it's an excellent way to spend your time productively while also honing your skills.
With enough practice, learning how to carve wood with a tool like Dremel will become simpler and allow you to create stunning pieces of art.
To assist you in starting out, I've come up with jaw-dropping wood carving patterns from all around the internet for you to try today.
So, make sure to check them out before you get started.
Dremel Wood Carving Designs
Before I get started with the fantastic designs and patterns, let me give you a short synopsis of what Dremel is and why you use this tool for wood carving.
In simple terms, Dremel is a brand name for rotary tools. It's a handheld power tool with a variety of attachments and accessories that you can use for different purposes, including wood carving.
What's fantastic about the Dremel rotary tool is that they're not only easy to use but also very versatile.
You can use them for a wide range of projects, such as cutting, grinding, engraving, polishing, and more.
Now that we've gotten that out of the way, let's move on to the easy Dremel wood carving projects…
1- Wood Spirit 
Wood Spirits are a symbol of good luck and good fortune. That's the reason so many people love to have them in their homes.
If you're looking for an easy wood carving pattern, then this might be the one for you.
Carving a wood spirit may look complicated, but it's actually much simpler than it seems–especially if you have a detailed pattern to follow.
Youtube videos like here and here offer you the best step-by-step wood carving patterns for beginners since it covers everything from start to finish so that anyone can successfully carve their very first wood spirit.
2- Celtic Knot and Cross
The Celtic knot and cross pattern is not only easy to follow but also looks great once you're done.
This is an excellent pattern to practice for beginners who are just starting to get the hang of wood carving with a Dremel. So, if you have some extra time on your hands, then I suggest you give this one a try.
Here's a helpful tutorial by Cornelius Creations that will show you how to carve some basic Celtic designs with a Dremel tool. Hopefully, you will find it useful.
3- Small Owl
An owl carved by Dremel tool is a most popular, beautiful, and intricate design that will take some time to complete.
But the great thing about this project is that it will help you learn some new wood carving techniques which you can use for other projects in the future.
If you want to go complex, you can create the pattern with some natural elements like trees, birds, etc., or for basic design, just carve the face of an owl and use the decorative piece in your home wherever you want.
Online you can find step-by-step guides on how to carve a small owl from start to finish. Make sure to follow each instruction carefully when using your rotary tool.
4- Carved Flowers and Leaves
Carved flowers are an excellent choice if you desire a project with numerous intricate details. 
Although it may not seem like the most challenging wood carving at first, upon closer inspection, you'll notice that each petal has delicate features that require precision to duplicate.
But the best thing is if you are just a beginner, you can practice with some basic shapes to get the hang of it before moving on to the more complicated designs.
This carved flower design will give you all the inspiration you need to start.
5- Carved Skull
The Dremel is perfect for carving skulls, as evidenced by the many examples online. The small end of the Dremel can be used to create sunken eye sockets, mouths, and even noses.
 While there are plenty of options available, this example carved into an acorn is arguably the most impressive in its own way.
With this easy-to-master pattern, you can progress your wood carving skills by first transforming a block of wood into a rough shape and then whittling it down to the desired form.
6- Bear Wood Design
The carved bear will allow you to express a range of emotions in a piece of art. As you practice, you can see your skills improve and build up a family of carved bears at the same time.
This grizzly woodland caricature from James Miller is a great piece of art that will make anyone smile. 
The level of detail in this basic carving project is superb, and it's a great example of what can be achieved with a little bit of time and patience. 
You can design a similar pattern to add to your decor indoors, or it's also a great fit for outdoors.
7- Carved Snail Design
A beautifully carved wooden snail design is a perfect gift for kids on birthdays or can even be used as a bedroom decoration on your shelves next to other carved animals. 
You can make the shell out of different woods to add some contrast or keep it all the same for a more uniform look.
This particular snail carving is made out of beech and birch wood, and it's a great example of how creative you can get with your designs.
8- Dragon
A dragon is a symbol of strength, power, and courage. So it's no surprise that this is one of the most popular wood carving designs.
There are many different ways to carve a dragon, including the Dremel tool, so you can let your imagination run wild and create the perfect piece of art that can be added to any room in your home.
9- Carved Hedgehog
This is another great carving idea for kids' rooms or anyone who loves hedgehogs. This little guy is made out of basswood and can even be painted to give it a more colorful look. 
When completed, you can use it to decorate your dining tabletop or on the study desk.
10- Easy Elephant Pattern
Elephants are a popular choice for wood carvings because they can be whimsical or realistic, depending on your style. 
This particular elephant is carved out of pine and is a great beginner project because it doesn't require too much detail.
You can add the colors with paints or stains of your choice or give it a clear natural look with a bit of varnish sealer.
11- Carve Pooch
A little pooch is the perfect carving project for anyone who loves dogs. 
This statue from Pinterest is made from a piece of wood carved and created into a cute little wooden pooch to decorate in your home wherever you like.
Yours may not look as life-like as the example shown, but after some practice and trials, you'll be able to master the skills needed to create more realistic carvings, allowing you to work on larger and more detailed projects.
12- Duck Decoy
Below is a picture of a lightweight, beginner-friendly carving with plenty of realistic detail packed into a tiny space. It's not essential to get into much detail like shown here at first. 
You can get started with basic design and, after some practice, begin to add more intricate details.
This particular carving is a duck decoy, but you can use the same principles to carve any kind of bird you like.
13- Mountain Bird
A lovely mountain bird carved and painted is an excellent decor piece for any room or office. With a Dremel tool, you can easily carve a chubby bird body out of a block of wood.
This is another design where it's not necessary to get too caught up in the details. You can focus on the big picture and improvise as you go along.
14- Pine Tree
Enough of birds and animals, trees are another beautiful subject to carve.
Especially with the Christmas season just around the corner, this pine tree would make an excellent addition to anyone's holiday decor. 
You can find a small log or branch and carve it along with the Dremel tool as per your liking.
You can start with a small and basic design like this one or go for a more complicated carving with multiple branches.
15- Cowboy Boot
Want to get an idea on how to carve a cowboy boot – thewoodcarverscabin helps you with all the detailed steps and instructions for you.
Although the picture shown here of the boot is carved with other carving tools (and not Dremel), you can use the same methods with a Dremel tool to get the desired results.
16- Trinket Box
A hand-engraved lid was etched with a Dremel to create this trinket box out of reclaimed wood.
It's intended as an engagement, girl's birthday, or wedding present, but you may also design your own creative trinket box that will store and protect jewelry. 
Sites like etsy.com also have a wide variety of readymade woodworking projects and plans for you to explore. So, if you don't want to make something from scratch, you may purchase it from there.
17- Axe Handle
Are you a proud owner of a hatchet or an axe? If yes, then this next project is surely for you.
An axe handle can be carved with a Dremel tool in any shape or design you want. Just make sure the carving is comfortable to grip and ergonomic enough for easy handling.
Get a new designer piece and finish your carved wooden axe handle with a bit of oiling to give it a more natural and shiny look.
18- Letter Opener
A letter opener is a timeless gift. It's basically a tool (shaped like a knife) used for opening envelopes.
While we may use email and messenger to convey our messages, a letter opener is still a wonderful present for someone who uses paper letters.
It's also an excellent desk accessory and the perfect present for anybody starting out in a new career or starting their own business.
The picture shows a beautiful design with a stand scroll saw pattern. The same design can be followed with a Dremel tool to get the desired results.
19- Carved Pendant
An intricately carved pendant is a great addition to any outfit.
Pagan, Wiccan, Triskelion, Celtic, Knot, Tree of Life, Pentacle, etc., are the classic designs you can go for.
They are easy to carve with a Dremel and look great as pendants. You could also make other Wiccan jewelry like magical wands, brooches, and rings with Dremel.
20- Engraved Sign
An engraved wooden sign, using a Dremel, is a wonderful way to create your own design that can be added to your home or office. 
These carved signs can also be a great gift for somebody close to you who has just moved into a new home.
There are a lot of carved wooden signs available on Etsy.com (like the one I have found in the below pic). You may purchase them or get inspired by the designs to make your own with a rotary tool.
21- Wooden Spoon
Ever wondered about using some carved wooden spoons and forks in your kitchen? They look absolutely gorgeous and definitely make a style statement. 
You can either buy them or, better yet, carve them with your own hands.
A Dremel tool is perfect for carving spoons and other kitchen utensils. Just make sure to use a softer wood like basswood or butternut so it's gentle on dishes.
 And also, consider seasoning them with a food-grade oil before using them.
22- Serving Stand
Unfinished wood or moistened wood slices lying in your basement or garage can be turned into a beautiful serving stand with a Dremel. All you need is some imagination and creativity.
Get the wood slices dried in your kitchen oven, and then start carving whatever design you want with a Dremel. You could either go for a rustic look or finish it with a wood stain for a more polished look.
23- Wool Bowl
A DIY yarn bowl is an excellent gift for your grandma this winter. Just grab a big wooden bowl and start carving it with a Dremel to give it a beautiful wool texture.
This carved yarn bowl can be used to keep the balls of wool untangled and in one place while your grandma is knitting or crocheting.
24- Yard Dice
Want to add some excitement to the playtime for your kids?
Well, then roll the dice with a Dremel and make your own yard dice. These are great for playing all kinds of outdoor games like Yahtzee, Craps, Farkle, etc.
You can use any piece of wood and some paint to get started. First, cut out the dice shape wood and then add the dots with a Dremel carving tool. Then, you can paint them whatever color or design you want.
25- Wooden Gnome
Fall gnome decoration is a great way to show your love for the season. These little guys are so easy and fun to make with a Dremel.
And if you want to go creative, why not build a large gnome to display in the backyard?
You can find a lot of different fall gnome patterns on the internet. Just print them out and use them as a guide to carve your own gnomes with a rotary tool.
26- Back Stretcher Tool
A back stretcher is a great way to relieve back pain and is a fantastic gift for somebody who is always complaining about a sore back.
If you already have some woodworking skills, you can make your own very easily with some wood and a Dremel carving tool.
All you need is a piece of wood and some basic carpentry tools. Just carve out the stretcher shape with a Dremel and add some padding for comfort.
27- Hair and Beard Comb for Men
Like the functional back stretcher above, this is another great gift idea for men (or anyone with a handsome beard).
This time you'll need a little bit more than just a Dremel, but if you have access to a lathe, it will make the project much easier.
Start by carving a basic comb shape out of wood, and then use the lathe to carve out the teeth. When done, add a smooth finish with your Dremel and some sandpaper.
28- Wooden Business Card and a Holder
Wooden business cards and a business card holder are great way to show off your woodworking skills, and it makes a great gift for just about anyone.
Start by carving out the basic shape or logo of a business card with your Dremel, and use a router to carve out the grooves for the business card holder. Finally, add a finish of your choice.
29- Personalized Postcards
Postcards are the old-fashioned way to communicate. If you are a fan of vintage designs, you will definitely love the idea.
This is a really fun and unique project that is perfect for gifts or decorations. 
You can use them to give a shout-out to a friend or family member or as a save-the-date for an upcoming event.
To begin, use your Dremel to sculpt out the basic form of a postcard. Then, using a router or a scroll saw, add in any designs or words you wish. Finally, seal it with whatever finish you like.
30- Wooden Letters
Letters made of wood are a great way to add a personal touch to any room or space. They also make a great addition when decorating a preschool lobby or daycare.
Use your Dremel to carefully carve out the letters of your choice and then paint or seal them with a finish of your choosing.
You can even add some exciting floral designs or patterns over it if you want to get a more creative look.
Dremel Wood Carving Tips and Tricks for Beginners
While Dremel is a fabulous option for wood carving and engraving, there are a few things you should keep in mind before getting started, especially if you're a beginner.
Here are some tips and tricks to help you get started:
a. Always use a sharp bit 
A sharp bit will make your carving easier and produce cleaner lines. If your Dremel bit is getting dull, replace it with a new one.
b. Use the correct speed 
Using too high of a speed can cause the bit to overheat and break.
If you're not sure what speed to use, start with a lower setting and gradually increase it until you find the perfect speed for your project.
c. Use light pressure 
applying too much pressure can cause the bit to overheat and break. Instead, use light pressure and let the Dremel do the work for you.
d. Have patience 
Rome wasn't built in a day, and neither is your wood carving project. Take your time and enjoy the process.
e. Practice, practice, practice 
Wood carving is a most relaxing and rewarding hobby that anyone can enjoy. And with a Dremel, the possibilities are endless.
The more you carve, the better you'll get at it. So don't be afraid to try out different techniques and designs.
Do not forget to get creative and have fun by getting the help of your friends or family members like your kids. They will definitely be going to enjoy these easy projects on the weekend.
Share the post "30 Dremel Wood Carving Patterns [Easy Projects for Beginners]"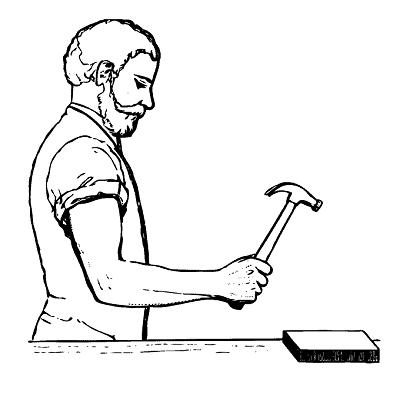 Hi, I am Mark Garner a professional carpenter, woodworker, and DIY painter. I live in the small city of Peoria, Arizona as a semi-retired woodworker. I have started this blog with a simple motive to help you with my wood experience in this sector. If you like to know more about what I love doing and how it all got started, you can check more about me here.