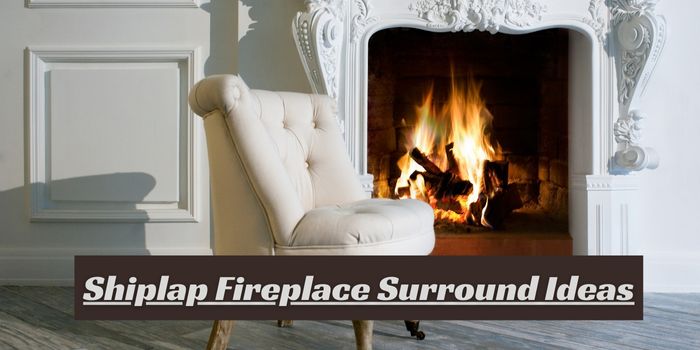 Have you ever considered using shiplap on your fireplace surround?
Many individuals may not know that shiplap is safe to utilize in a fire surround if you follow the proper safety standards.
Each state has its own set of fire and surrounding materials codes.
You'll have to see what your local code rules are, but when it comes to remodeling or creating the inside of your house, always adhere to the National Fire Code and the National Building Code.
The ordinance (here and here) states that combustible materials such as wood trim, framing, mantels, etc. must be used at least 6 inches from the fireplace or firebox opening.
Every 1/8 inch of projecting combustible material requires an additional inch of clearance.
Also, if the face of the fireplace is more than 1.5 inches (38mm) deep, you'll need another inch .of clearance for each length of extension beyond 1.5 inches.
Shiplap Fireplace Surround Ideas
Fireplaces come in all sorts of sizes, shapes, designs, and styles to fit any home's aesthetic.
And while the fireplace is beautiful on its own, the area around it is what makes a space pop.
Shiplap has been trending recently as a popular surround for fireplaces because of its clean look and versatility.
Even if you think you've seen everything shiplap has to offer, there's always more to explore.
If you are looking for fireplace wall design and decor ideas with shiplap, I have put together some great ideas for you.
1- A Natural Lumber
A wood board shiplap fireplace surround is a simple and classic design that a contractor or do-it-yourselfer can easily install.
This type of fireplace surround can be made from any kind of wood, but the most popular type is cedar because it is naturally rot and insect-resistant.
If you are looking for a more rustic design, you can use reclaimed wood or barn wood to create a one-of-a-kind fireplace surround.
While using a wooden shiplap around your fireplace, be extra cautious and follow all the guidelines correctly. It can be a fire hazard if not used properly.
One good way to be safe is by making the timber fireproof. While it's not a foolproof method, it can help to some extent.
2- Cement Board
Cement board as a shiplap is a great material because it's fire resistant – mostly, you MUST use a fire-resistant material around your fireplace to be safe, especially if you're using a wood-burning fireplace.
The cement board is made of Portland cement and reinforced with fiberglass mesh, making it a very strong and durable product.
It is also waterproof so that it can be used in bathrooms and kitchens as well.
Cement board comes in different thicknesses, but for a fireplace surround, you'll want to use the thinnest option, which is 1/4-inch thick.
It is straightforward to install because it can be cut with a utility knife and screwed into place.
You can even use liquid nails to fix the vertical pieces of cement board, which looks super neat. Make sure to measure and cut a space for any electrical outlet or switch in the way.
3- Beadboard
Beadboard paneling is wainscoting with vertical grooves that give the illusion of narrow, evenly spaced boards.
It's a popular material for fireplace surrounds because it is easy to install and gives a cottage-chic look to any space.
Beadboard is available in different materials, such as PVC, wood, or MDF (medium-density fiberboard).
MDF is the best material because it is effortless to cut and doesn't splinter like wood. It is also more affordable than natural wood.
To install the beadboard around a fireplace, you must use construction adhesive and finishing nails.
It's best to use a pneumatic nailer because it makes the job go much faster. You can also use a brad nailer, but it is not as powerful.
Once the beadboard is in place, you can paint or stain it to match your décor. If you want a more rustic look, you can leave it natural.
4- Rustic Stone Veneer
Desire getting a more substantial fireplace surround – use stone veneer. This thin layer of natural stone is applied to a surface to give the illusion of a real stone fireplace.
Stone veneer is much lighter than natural stone, so it is easier to work with and install.
There are many types of stone veneer to choose from, such as flagstone, slate, and river rock.
The type of stone you choose will depend on your personal preference and the overall style of your home.
To install stone veneer, use a construction adhesive and metal lath.
The lath will support the stone veneer and help prevent cracking while maintaining the stylish appearance of a fireplace mantle covered entirely in stone shiplap.
5- Whitewash Bricks
If you're looking for a fireplace surrounded by rustic charm, you may want to consider whitewashing the brick.
Whitewashing brick is a simple process that allows you to brighten up the space and give it a more country feel.
You'll need to purchase a whitewash kit from your local hardware store, which usually includes a brush and a gallon of whitewash. Once you've got your supplies, follow these steps:
Begin by cleaning the brick with a wire brush to remove any dirt or debris.
Next, mix the whitewash according to the directions on the kit.
Once the whitewash is mixed, paint it onto the brick using a brush. Be sure to work in small sections so that the whitewash doesn't dry before you can spread it evenly.
Once you've finished painting the brick, allow it to dry for 24 hours before using the fireplace.
6- Seasonal Backdrop
This is an inexpensive and easy way to add some holiday cheer or celebrate the changing seasons.
By putting them up, you can seasonally change out your shiplap backdrop.
It's, in fact, an excellent idea for those who want to add some pizazz to their fireplace without spending much money or time.
Adding a wallpaper backdrop may be the way to go if you want something a little more permanent. This can be done by either hanging sheets of wallpaper or by using contact paper.
Another great idea is to add some molding around the fireplace by either painting it or adding wood trim. This will help to define the space and make it look more polished.
In all these cases, ensure you follow all fireplaces' safety codes and regulations. Also, if you are unsure about anything, always consult a professional before beginning any work.
7- Floor-to-Ceiling Shiplap
Wood paneling on the whole wall and ceiling makes the room more expansive. The open fireplace is welcoming and not just limited to those close by.
There's more interest throughout than one flat surface, thanks to rafters and shelving. Topping it off with a white paint job prevents feeling overwhelmed in the space.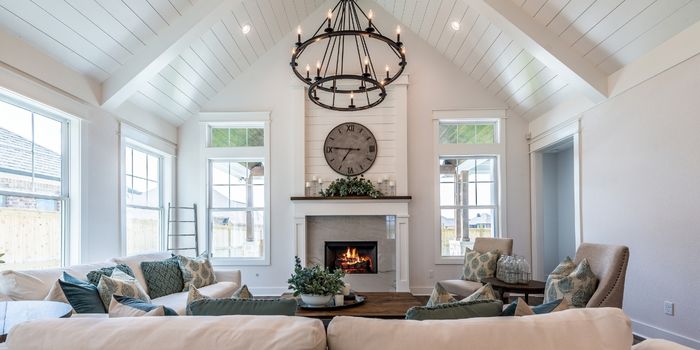 8- Dark Matte Black Metal
Try using dark matte black metal for a more contemporary take on the fireplace surround.
Materials like aluminum are durable and easy to clean, so it's an excellent option for those who want a low-maintenance fireplace.
They are sleek and custom-made to fit any wall.
To install a metal surround, you'll need to use screws and wall anchors to secure it in place. Ensure to use proper size screws and drill bits so that the holes are not too big or small.
You may also want to use silicone caulk to seal any gaps between the wall and the surround.
9- Porcelain or Ceramic Tiles
These are a great option for your fireplace surround, mainly if it lies between windows. It is easy to clean and maintain and can withstand high temperatures.
Plus, there are so many different colors and designs to choose from.
When choosing tiles for your surround, be sure to select ones that are rated for use in high-heat areas.
You'll also need to purchase tile adhesive and grout.
To install the tiles, spread the adhesive on the back of each tile and press it into place.
Once all the tiles are in place, allow the adhesive to dry according to the manufacturer's instructions.
Then, mix the grout and spread it over the tiles. Use a wet sponge to remove any excess grout.
10- Faux Bricks for Fireplace
Bricks are a classic material for fireplaces. They are durable, easy to clean, and can give your fireplace a traditional or rustic look.
If you don't want to use real bricks, you can opt for faux bricks instead. These are made from various materials, including high-density polyurethane, concrete, plaster, and paper.
Faux bricks are easy to install and can give your fireplace a unique look without using real heavy bricks.
You can find them at most home improvement stores in sizes that fit around your gas fireplace, allowing you to arrange them in the way you want.
11- Paint the Fireplace Surround
Paint is a quick, easy way to update the look of your fireplace – get them painted like shiplap, wood, or even marble, and they will look marvelous.
Scandinavian sleekness with a chevron pattern can also be done; you can even add a stencil design to give it more character.
Use high-heat-resistant paint found at most home improvement stores when painting your fireplace.
To paint your fireplace surround, clean the surface with a degreaser and then sand it down.
Once the surface is smooth, apply a primer and paint using a roller or a brush designed for use with high-heat paints.
Painted Shiplap can be white, black, or even a bold color of your choice, typically in a matte or flat finish. The only disadvantage to a flat finish is that it's difficult to clean.
A semi-gloss would be ideal for cleaning but will appear glossy. An eggshell sheen or satin are good bets as an intermediate sheen.
Final Thoughts
If you're looking to add a bit of charm and character to your home, shiplap is a great way to do it. You can find prepainted shiplap in various styles to suit your space's look and feel.
However, it's always best to use non-combustible materials around the fireplace opening for safety reasons.
Tile, marble, stone, brick, or steel are all excellent choices depending on your fireplace type and the makeover style you are looking for.
So, when it comes to your fireplace surround, don't be afraid to think outside the box and use shiplap creatively!
Share the post "Can Shiplap be Installed Around a Fireplace – Tips and Ideas"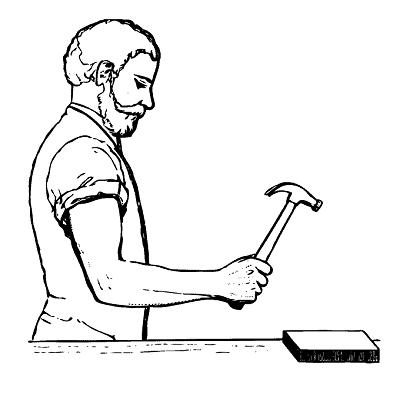 Hi, I am Mark Garner a professional carpenter, woodworker, and DIY painter. I live in the small city of Peoria, Arizona as a semi-retired woodworker. I have started this blog with a simple motive to help you with my wood experience in this sector. If you like to know more about what I love doing and how it all got started, you can check more about me here.