You're in the middle of painting your kitchen cabinets when you realize you don't have the right brush for the job.
The brush you had is no longer usable and has been shredded. Or maybe you're about to start a project and wondering what type of brush is best for painting cabinets.
Paintbrushes are arguably not one size fits all; there are different types for different purposes.
This article will discuss the different types of brushes to paint cabinets, their uses, and which is best for your project.
So, if you're looking for the perfect brush to paint your bathroom or kitchen cabinets or even your wardrobes in the bedroom, then this guide is for you.
Different Types of Brushes to Paint Cabinets
Here are all my findings from my decades of experience in woodworking, painting, and using my tools…
1- Natural Brush
The brush's material matters the most when you choose them for your wooden cabinets. So, the first type of brush is the natural bristle brush.
Natural brushes, made from animal hair like badger or hog, usually hold more paint, creating a smoother finish.
Choose natural bristles when applying oil-based paint, polyurethane, top coats, shellac, varnish enamel, or decorative chalk paint – it's also great for furniture wax.
Don't use natural brushes with water-based paints because they'll absorb too much water and become less effective.
2- Nylon/Polyester Brush
This is the most popular type of brush. Nylon or polyester bristles are strong and durable and can be used with all types of paints on laminate cabinets and wardrobes.
When using water-based or acrylic latex paint, it's best to use a synthetic brush made of high-quality polyester or nylon/polyester.
Natural brushes simply don't work as well in these types of applications.
3- Foam Brushes
Foam brushes aren't trendy, but they are required for various paint tasks at home.
These paintbrushes are usually disposable and cheap and are mainly intended for their use with paint, stain, and urethane on wood projects.
They provide a smooth finish. They're an affordable choice for cheaper furniture, cabinets, and other woodwork projects.
4- Small-Sized Paintbrush
Paintbrushes come in various sizes, the smallest ones being one inch and the most significant two-and-a-half inches.
They're ideal for cabinet painting because they're small enough to get into tight spaces, such as inside cabinet doors, drawers, and around hardware.
5- Medium-Sized Paintbrush
When you're into painting larger surfaces like the cabinet's main door, a medium-sized brush is perfect – I recommend choosing two-and-a-half inches to three inches for such areas.
6- Large-Sized Paintbrush
A four-inch to six-inch brush is ideal for painting more oversized cabinet doors, wardrobes, or even around the walls or ceilings near your cabinets.
These brushes are usually an excellent investment because you never know when you'll need them for other, more extensive projects.
7- Angle Sash Paintbrush
The angled, short-handled paintbrush was first designed to fit inside window frames and quickly paint the sashes comfortably.
The shorter handle gives you more control, helps you work faster, and prevents arm fatigue when you use it for your kitchen cabinets made of plywood or MDF.
It's also stable and easy to maneuver around obstacles, making it perfect for windows and for detail work like edges, corners, molding, and grooves.
It's also referred to as a "cutting" brush since it assists in painting around objects such as walls. The bristles are sharpened on a slant which helps produce clean lines without extra effort.
8- Round Sash Paintbrush
Sash brushes come in handy when you need more control over your paintbrush and where the paint is placed.
They have a blunt, tapered end with soft edges, which makes them ideal for decorative painting like faux finishes or furniture painting.
Round sash brush sizes can range from 20 mm to 44 mm, so they are ideal for small tight corners of smaller-sized cabinets and dressers also.
9- Square Cut Paintbrush
This paintbrush is designed to paint flat surfaces like interior and exterior walls, siding, paneling, and doors.
But because of its shape and standard size, you can also use it on your cabinets, either main doors or drawers.
It has a chiseled tip that cuts clean lines and provides excellent coverage. The bristles are set in a square ferrule and can be natural or synthetic.
The square-cut bristles on this brush make it more precise than a roller, so you'll not only get high-quality results, but you may also save money on paint.
10- Flagged-Bristle Paintbrush
The "flagged" bristles on this brush are split at the ends, allowing them to hold more paint and greater coverage.
Furthermore, when you use a brush with flagged bristles, the paint comes out more quickly, so you can get a pristine finish.
11- Finishing Brush
Typically it's a good idea to invest in a finishing brush to guarantee that your surfaces are smooth and able to withstand scrutiny.
The finishing brush leaves no streaks or dirt behind because of its softer-than-normal ox hair bristles.
It's the paintbrush of choice for projects like banisters and kitchen cabinet doors – any job that requires a smooth finish.
12- Stencil Brushes
While most people won't need this, this type of brush is for you if you are more into detailed and creative work.
These brushes are designed to fit into small spaces and paint detailed patterns.
Use these paintbrushes to create stencil designs on your walls; they're different from regular paintbrushes because they have a round shape and are densely packed with bristles.
The bristles are all equal in length, so you won't make a mess when stenciling.
Final Thoughts
Hopefully, this list will prove helpful where I have detailed all the types of brushes I have used to paint cabinets.
Remember that for a super-smooth finish on your cabinets, use a natural bristle brush for oil-based paints and a synthetic brush for latex paints.
Before you start your painting project, think about the areas you'll need to paint and ensure that you have the appropriate paintbrushes for the job.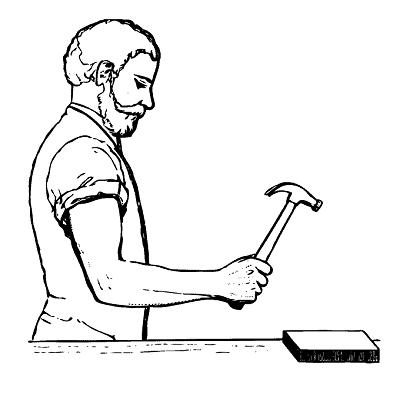 Hi, I am Mark Garner a professional carpenter, woodworker, and DIY painter. I live in the small city of Peoria, Arizona as a semi-retired woodworker. I have started this blog with a simple motive to help you with my wood experience in this sector. If you like to know more about what I love doing and how it all got started, you can check more about me here.