If you are thinking of creating a custom blackboard by painting over chipboard, then you are in luck.
Blackboard paint can be used on chipboard to create a place for you or your little ones to write away without causing any damage to the surface.
The good thing here is chipboard will provide a proper finish which makes it the perfect subject for blackboard paint.
Plus, blackboard paint will adhere properly to chipboard with little to no preparation.
Of course, while you can apply the blackboard paint directly, it is generally better to first use a primer first and let it dry for the recommended time.
After that, apply the blackboard or chalkboard paint and let it dry for at least 4 hours. Then apply a second coat and allow it to dry.
If you are not so confident, it does help if you find some scrap chipboard first so you can test out the blackboard paint.
Well, this was a short and simple explanation of what the topic was.
But if you are new to all these chipboard and blackboard paint topics there's more for you to know before you plan to use this kind of paint.
Below in this article, I will give you all the details about what is chipboard, what is blackboard paint (also called chalkboard paint), why you should use this type of paint, and how to apply it properly step by step.
So, lets' dive in…
In this article we will cover:
What is Chalkboard Paint?
Put simply, this is a type of paint that you can write on using chalk.
It is not chalk paint as that provides a matted look that is perfect for making furniture look like it has aged gracefully.
Chalkboard paint basically turns a surface into a blackboard for writing purposes.
It can be a great accent to your home décor, especially when used in areas where writing on the walls may be desirable such as in a children's bedroom or in the kitchen.
Chalkboard paint can be used on the walls, but also on tabletops. This makes a great addition to a bedroom, hobby room, home office, playroom, and more.
A chalkboard surface lets you make notes, keep a to-do list, write down key points during a call, or let your imagination run wild.
With the many positives of chalkboard paint, it does come with a few drawbacks.
First, this type of paint tends to be more expensive compared to standard paint. If you are on a tight budget, then you will want to limit the space for the chalkboard paint.
Plus, the chalkboard paint will need to be properly conditioned so that it can be fully cleaned and reused time and time again.
How to Paint a Chipboard with Chalkboard Paint?
Chipboard, sometimes called particle board or low-density fiberboard consists of small wooden particles held together by an epoxy resin.
This is all pressed together under intense pressure and heat which creates a solid, rigid, and smooth surface.
You'll find this type of board used in furniture, countertops, and flooring.
Chalkboard paint is applied in a different manner compared to standard paint.
You do not have to prepare the surface before painting, but you do need to add a wax coating afterwards to preserve the finish.
The flat finish of chalkboard paint is due to the addition of calcium carbonate or chalk. It is mostly used to create a distressed, aged look to furniture.
Chalkboard paint is easy to apply and does not leave any brushstrokes, which is why it is a popular choice for windows, trim, and wooden cabinets.
If you decide to use chalkboard paint on chipboard, you will need to decide what you want the item to look like when you are finished.
Once you have decided, the next step is to prepare the paint.
You can thicken the paint a little by letting it sit open in the can for a few hours. Or you can thin the paint with some extra water to create a paint wash.
You'll need to purchase some brushes, fine-grit sandpaper, wiping cloths that are lint-free, and some wax.
1- Clean:
You do not need to sand the surface before painting. But you will need to clean it properly.
You may need to apply a coating of shellac if the wood has stains, particularly deep red stains such as cherry so that it does not bleed through the paint.
2- Apply:
Now you can apply the first coat of paint. You can brush it in thin or thick to get the effect you want. A second coat is desirable if needed.
3- Sand:
Once the paint is dry, use a fine-grit sandpaper to remove the paint from the areas that you want to expose.
4- Clean & Wax: Once you have sanded the surface, clean away all the grit and dust using a damp cloth.
Next, use a brush along with a clean cloth to apply the wax.
Apply in small sections at a time. You'll probably want to apply at least two coats of wax for maximum effect.
Be sure to buff the wax after each coat. And then let the wax set for about three weeks to get the really fine finish.
How to Condition a Freshly Chalkboard Painted Surface?
Before you break out the chalk and start writing, it is best to condition the painted surface first.
The process is rather simple as you season the chalkboard with chalk.
Simple turn the chalk lengthwise and rub it across the entire chalkboard. Then wipe the chalkboard clean.
What this does is prevent the first words or letters you write from showing up as faint impressions that will never get cleaned away.
Seasoning creates a clean writing surface in which all the pores are now filled evenly.
To properly season your chalkboard, do the following.
a) Color: Once the chalkboard is fully dry, color the entire board vertically.
b) Color Again: Next, color the chalkboard horizontally. This will take care of the two major directions.
c) Dry: Now, use a dry paper towel and rub off all the chalk.
Now you are ready to use the chalkboard. Just remember to not use dustless chalk as this will not season the chalkboard correct.
Plus, if you have painted a large area with chalkboard paint, you'll want to purchase some sidewalk chalk which is larger than standard chalk.
This will allow you when turning the sidewalk chalk sideways to cover the entire area faster.
Finally, purchase some chalk markers that come in a variety of colors.
This will let you and your kids start using their imaginations when creating designs for your chalkboard areas.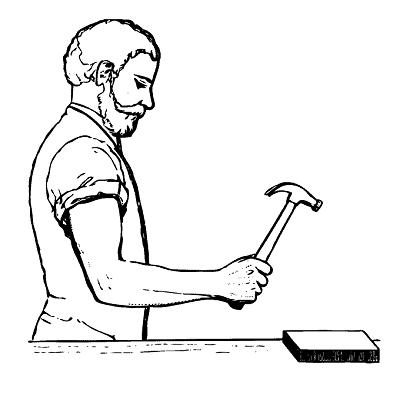 Hi, I am Mark Garner a professional carpenter, woodworker, and DIY painter. I live in the small city of Peoria, Arizona as a semi-retired woodworker. I have started this blog with a simple motive to help you with my wood experience in this sector. If you like to know more about what I love doing and how it all got started, you can check more about me here.