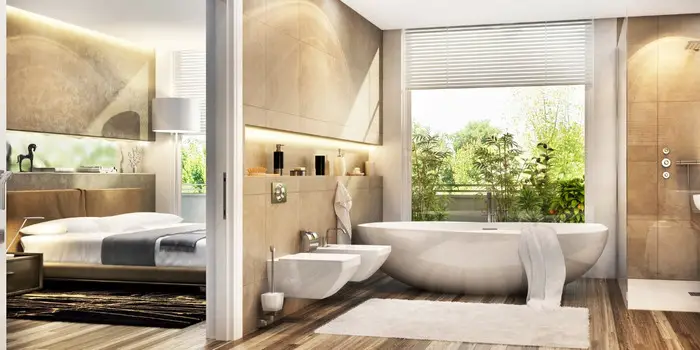 The bedroom and bathroom are two rooms that you spend a great deal of time in during the day when you add it all up.
Even so, their decoration is something that many people overlook when considering the interior of other parts of the house.
Changing up what hangs in the doorframe of either of these rooms can do wonders for the appearance and vibe. Below, we will explore a few alternatives to both bedroom and bathroom doors.
Alternatives for Bathroom Doors
1. Pocket Doors
A pocket door is a unique way to decorate your area while also saving space, especially when compared to traditional doors with hinges.
A pocket door stays out of the way, which gives you the privacy you need without taking up too much room.
This type of door opens by sliding into the wall instead of swinging open, meaning it is exceptionally well suited for tight, small spaces, making it perfect for bathrooms.
A pocket door can also make ventilating the bathroom a whole lot easier.
That said, installing a pocket door can be both time-consuming and cumbersome since it requires that you have a recess in the wall for the door to fit into.
Generally speaking, though, a pocket door looks nice and is very functional, so those with the type of space it needs should absolutely consider one.
2. Barn Doors
If you are into rustic decor and want a door that really stands out, a barn-style sliding door is a great option for you.
Installed using rollers, a barn door is not unlike a pocket door, except in the way that instead of sliding into the wall, it slides over it.
This means that it is far less tedious to install. There are many different styles to choose from, as well as many finishes and colors to work with, allowing you to match the color of the surrounding wall if you want to.
It can also be an environmentally friendly option if you choose one that is made of reclaimed wood.
There are excellent bathroom door alternatives out there, and besides being a space-saving design, a rustic door can add one-of-a-kind charm to your bathroom while also making it seem welcoming and cozy.
3. Curtains
If the idea of a restrictive door in your bathroom doesn't sound good, then you could instead use curtains.
The flowing, soft nature of a curtain means it won't take up a lot of room and will add a certain softness to the interior.
A big perk with curtains is that there is a huge variety of options in their designs, styles, and patterns, leaving you plenty of opportunities to customize your space.
They are also quite versatile and functional in the way they give you privacy while being easy to enter hands-free.
A curtain is also a lot easier to install when you compare it to traditional bathroom doors, and you can get it up and ready to go in no time with a simple curtain rod.
Even the rod you choose to hang it on has decorative potential.
Be sure that you look for curtains that are resistant to moisture and mold due to the exposure to wetness that they will have by nature of being near the bathroom.
Otherwise, the humidity and moisture could damage them. Another downside to consider before committing to curtains is the fact that curtains can't be locked like a door.
Also, if you live in a house with a lot of people, they might not offer the privacy you want.
4. Beads
Though bead doors are not a common choice for bathrooms and are instead more commonly seen in bedrooms, they make a one-of-a-kind, cool alternative to consider.
You can give off a boho-chic vibe by hanging beads as a door.
Of course, they won't offer all that much privacy if you live with a lot of people, but if you live alone or even with your partner, they may be a fine choice.
Bead doors take no time or effort to install. They come in many styles, colors, and textures and are pretty inexpensive as well, making them a popular choice for those with limited time or a limited budget.
If you want to do something creative and quirky with your bathroom doors without spending a lot of money, using beads is a good idea to consider.
5. Shoji Doors
Shoji doors are another standout way to change up your typical bathroom doors.
They are inspired by Japanese architecture and originally were made from a bamboo frame filled in with translucent rice paper.
Though these aren't particularly fragile, a traditional shoji door also isn't one of the most durable options you have.
Modern shoji doors, on the other hand, are made using two panels of glass with paper between them or simply frosted glass panels that are attached to a wooden frame.
This type of door is not only great for those who need to save space but is stylish, discreet, and offers the level of privacy that you want.
Using shoji doors will give your bathroom a traditional eastern look that can totally transform your space.
6. Chalkboard Doors
If you want something more playful for your bathroom door, a chalkboard door is a great option.
Chalkboard doors are cute, quirky, and modern, offering you remarkable creativity options.
You are free to paint the inner panel of a chalkboard door with chalkboard paint to make the door both fun and functional.
Use the door to create art, leave messages for your roommates, write down your to-do lists, and so much more.
7. Folding Bathroom Doors
With a folding bathroom door, you can add some life to your bathroom.
A folding door in a bathroom has a unique folding mechanism that you can choose from between a tri-fold or a bi-fold style.
These types of doors are made using several glass panels, where one of them is fixed to a wall while the others are fixed to each other, allowing the panels to move or fold freely.
This type of door is very versatile and ideal for use in tight, small spaces like bathrooms.
They are super easy to open and close, so they are perfect for any modern bathroom that you want to dress up with an alternative door style.
With the bathroom doors taken care of, you can start thinking about how to change up your bedroom doors next.
Alternatives for Bedroom Doors
8. Bookcase Doors
Just like in old mystery movies, a bookcase door can add some intrigue to your home.
A bookshelf that also functions as a door not only provides discretion and adds an air of mystery, but it has some more utility than what usual doors can give.
A bookcase door is also good if you want to really make a space private since you can hide away the room behind the bookcase, and no one would be the wiser unless you told them about it since it blends in well with the wall and its surroundings.
Besides simply being an entryway, you can also use it as a storage space. You could use it for books, or you could use it for decorations like houseplants and photos.
There are many good qualities that come with a bookcase door that make it appealing, but there is one thing to keep in mind if you decide to go for this look.
Remember that door handles have to be worked into the design unless you have the means and the know-how to make it open and close by pushing a button like in the old movies!   
9. Colorful Curtains
Much like in a bathroom, curtains are a beautiful way to separate your room from outside space.
It will offer plenty of visual privacy, but of course, it will not stop any sound from passing through.
The versatility and diversity of curtains allow you total control over the customization of the space.
You can buy actual curtains, or you can go shopping for rolls of fabric at your local arts and crafts store.
This will allow you to get down to what you want the space to look like, unlike with standard doors that only come in a certain number of variations.
Tapestries will also work well here, and if you pot some plants on either side of the door, you can create a dreamy little space that you'll love to enter.
This is an especially popular choice for younger people and college students due to the decorative nature of the look.
10. Accordion Room Divider
A room divider is a neat way to bring privacy to your space without having to use a door.
Placing a room divider inside the room up against the wall near the door can also create a mini hallway to add even more privacy, as people will need to walk down it and then turn at an angle to get into your space.
This type of door alternative requires no installation at all, and you are free to move it around however you want, whenever you want.
You can buy room dividers in many different styles, colors, and materials, so you can decide to go casual or elegant.
11. Ropes, Lattices, Desks, or Side Tables
This is a similar idea to using a room divider but goes an extra step further.
You can put a desk or table where the back of it will face the door and then have hanging plants dangling down or do the same with ropes.
If you would rather not use a plant, you could always make a backing that you can then decorate on one of the sides.
On the opposite side, you could have a cord board or similar surface that you can take advantage of while working at your desk.
12. Hanging Textiles
Alongside fabric, you could also add fiber art installations to the doorway to separate your bedroom from the main living section.
This could be anything from woven pieces of artwork to short macrame planters in the doorway.
13. Leather Tufted Door
If you are happy with the door style that already exists in your home, you could spice it up by adding leather to it.
Using a tufted leather finish, you can create a door with a warm, vintage look, but one that is also quirky enough to make itself stand out amongst other modern decors.
14. Hanging Beads
Like in the bathroom, hanging beads as a door to the bedroom offers plenty of styles though it sacrifices much of your privacy.
They are a lot of fun, but they won't keep sound out, and people can see into them fairly easily.
You may also want to think twice about them if you have any kids in the house, as they may like to tug on the beads and send them tumbling down.
There are many different styles to choose from, both in terms of color and material, and you can make it even more decorative by choosing a unique curtain rod to hang them from.
15. Double Swinging Doors
If you like the wild west style, you can bring some of that old-school country charm to your bedroom.
Using swinging saloons-style doors makes it easy for you to walk through on top of being stylish and unique.
This tends to be one of the more budget-friendly options you can do, and they are quite easy to install. Their short frame just requires easy installation of hinges onto the wall in most cases.
Keep in mind that these styles of doors do not cover the entire height of the doorway, so privacy could be a concern.
Final Thoughts
Bedroom and bathroom doors hold plenty of potential for style and functionality that are often overlooked in favor of the appearance of the rooms themselves.
Above, we offer 15 unique alternatives to bedroom and bathroom doors. Browse the options and find one that suits your taste and preferences.
Share the post "15 Bathroom & Bedroom Door Alternatives (For Fun and Privacy)"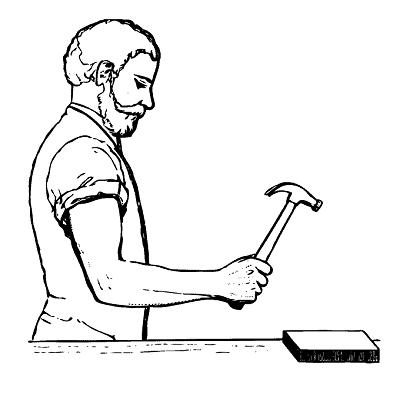 Hi, I am Mark Garner a professional carpenter, woodworker, and DIY painter. I live in the small city of Peoria, Arizona as a semi-retired woodworker. I have started this blog with a simple motive to help you with my wood experience in this sector. If you like to know more about what I love doing and how it all got started, you can check more about me here.